4 Hot Engagement Ring Trends of 2013
By

Sean Dunn
·
July 8, 2013
The ring is one of the single most significant elements of engagement. Why? Because it is the emblematic expression of undying love. Romance is ultimately symbolized by the precious metal that lies on the bride-to-be's finger. Many a groom will tell you that there is not only an abundance of pressure, but also an overwhelming amount of decisions when it comes to engagement rings. Where do you possibly begin? We here at JR Dunn understand the confusions that may arise when choosing an engagement ring, and after extensive research, we have found four hot trends to make your decision (and life) a lot easier.
Trend #1: Vintage
Perhaps the most popular engagement ring trend is the vintage style ring. This ring is inspired by old European art styles prevalent in the Victorian, Edwardian, and Art Deco periods. The vintage style features daring geometric shapes, dramatic ornamentation, rich colors, and stylistic fusion. Rings that come in this style display round and cushion cuts, elaborate architectural settings, and perfectly complementing stones.
Trend #2: Colored Stones
Colored gemstones can come however you like them. If you're looking for a look that is both modern and traditional, colored diamonds are an excellent choice. The tint in the diamond not only hints at its unparalleled beauty, but its rarity as well. Only one out of every ten thousand diamonds are naturally colored. Although this aspect makes colored diamonds a bit pricey, they are all the more worth it. For a lesser but equally charming choice, other colored gemstones, such as blue and pink sapphires, are a great complement to an engagement ring.
Trend #3: Fancy Cuts
Modern cuts are an emerging trend that infuse a stylish flare in the ring. For those who want to maintain a sense of traditionalism while still incorporating a bold touch, the oval cut is for you. Similar to the traditional round cut but with an elongated shape, its slenderizing effect on the finger is astounding.  For those who want to boast a more fierce style, the pear and emerald cuts are perfect. They both feature extended shapes and distinguishing facets.
Trend #4: Mixed Metals
Traditionally, the most popular engagement ring setting comes in platinum, but brides are becoming more transcendent as time progresses. Two-toned metal combinations, such as white and yellow gold or white and rose gold, are now popular. The contrast is a match made in heaven creating a result that's overwhelming.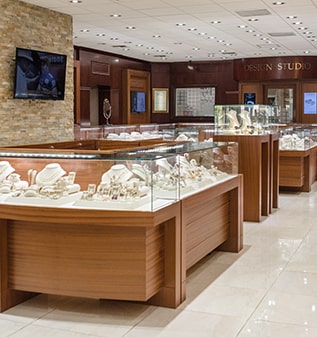 Visit us in real life.
4210 N. Federal Hwy.
Lighthouse Point, FL
33064
Visit us
Store location
Mon-Sat: —
Sunday:

Closed
4210 N. Federal Hwy.
Lighthouse Point, FL
33064