A Tribal Influence - Marco Bicego Masai Collection
By

Nina Glaser
·
June 9, 2016
Travel is often what inspires a Marco Bicego jewelry collection, and the designer's new Masai jewelry is no exception. The sleek, beautifully textured 18kt pieces are reminiscent of the ornamentation of the African tribe. Master artisans layer hand-coiled strands of gold together using the corda di chitarra technique to hand-craft the new collection, which is an extension of the Marco Bicego Goa and Marrakech lines, where coil is also an icon.
Masai earrings, necklaces, bracelets and rings can stand on their own, or be combined with other Marco Bicego collections (particularly in terms of stacking straight-line bracelets), or pieces of jewelry already in your collection. The layered strands of Masai jewelry adapt to the natural curves of the body. Modern, sophisticated shapes are enhanced with shimmering diamond detail in the form of cushion paves in a number of pieces. Necklaces and bracelets feature tongue and groove closures.
Check out gleaming hoops with diamond accent; single and multi-strand necklaces, including two -, three – and five-strand models, as well as station necklaces in assorted tones; tricolored bracelets; two-toned and multi-strand rings, including double, triple and quintuple elements. A bold and luxurious 11-strand crossover diamond bracelet is available in white or yellow gold. There is something for everyone!
Make your own fashion statement with a piece (or more) of Marco Bicego Masai jewelry!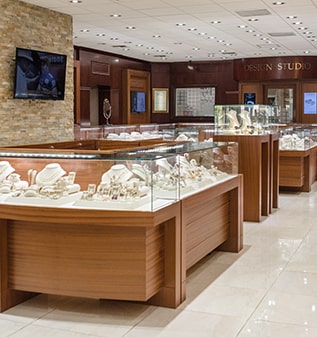 Visit us in real life.
4210 N. Federal Hwy.
Lighthouse Point, FL
33064
Visit us
Store location
Mon-Sat: —
Sunday:

Closed
4210 N. Federal Hwy.
Lighthouse Point, FL
33064