An Opal Colors the World of Jewelry Designer Robert Pelliccia
By

Nina Glaser
·
August 14, 2015
Opals are historic. They have great beauty, and lend themselves to all kinds of jewelry. Take this 8 Mile Coober Pedy Opal, for instance, made into a necklace by Robert Pelliccia. From the moment he saw the gem, his mind was designing. He looked at it in different lights and from every angle. He was excited by its rainbow of colors. He said that the palette reminded him of the setting sun. So much so that he named the piece "Opal Sunset." The one-of-a-kind necklace is crafted in 18kt rose gold. It features a 13.29 8 Mile Coober Pedy opal surrounded by yellow and white diamonds and pink sapphires. A Diamonds-by-the-Yard" chain has bezel set diamonds and leads to a diamond bail. The opal, surrounded by a double halo, hangs from it. The first halo has yellow diamonds. The outer frame is an organic shape of pink sapphires and white diamonds. The effect is the same as the sun setting over water. The gems disperse and diffuse light. The necklace is stunning with amazing colors that include yellow, green, orange, red, purple and blue.
Now that the beauty has been covered, on to the history! Coober Pedy is a mining town in the Australian outback that produces 70 percent of the world's opals. Its name means "white man's hole," from the Aboriginal "kupa-piti". Aborigines walked the region for thousands of years. Legend has it that opals were discovered there by 14-year-old Willie Hutchison in 1915. A member of his father Jim's gold prospecting party, he was assigned camp duties. When he finished working at the camp, he started to explore. Was he looking for gold? Was he looking for water? While he found neither gold nor water, he did find an opal field! Today, there are more than 70 Coober Pedy opal fields, including the 8 Mile mining area. They cover an approximate area of more than 3,100 miles. The region has a history of boom and bust. Opals are its number one trade, second to tourism.
The passion felt by the designer for opals is obvious in this work. He put his heart into the creation of the 8 Mile Opal necklace. It shows how creative, inspired and skilled the artist is, and why his designs have won awards and are widely recognized.
Coober Pedy, the opal capital of the world, celebrated 100 years of the gem in 2015. You can celebrate, too, with a piece of opal jewelry!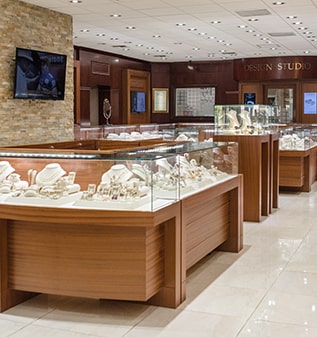 Visit us in real life.
4210 N. Federal Hwy.
Lighthouse Point, FL
33064
Visit us
Store location
Mon-Sat: —
Sunday:

Closed
4210 N. Federal Hwy.
Lighthouse Point, FL
33064