Blog
Getting engaged is one of the most exciting events in a couple's life. It marks the beginning of a life together that will include a wedding, maybe a growing family, establishing a home and many more wonderful milestones. The first step towards proposing and getting engaged entails selecting an engagement ring. With so many styles and trends available today, it can be hard to narrow down your options. J.R. Dunn Jewelers has a wide selection of luxury jewelry, including gorgeous diamond engagement rings and gemstone engagement rings, to mark the first step towards tying the knot: your engagement.
While styles shift and change over time, and while some ring trends come and go, there is nothing quite as classic and elegant as a diamond engagement ring. No matter what cut you prefer, how big you want the center stone or what type of metal you desire, J.R. Dunn has a wide array of stunning and timeless diamond engagement rings that will offer you the perfect first step toward building a life with the one you love. Take a look at some of the most timeless and classic diamond engagement rings we carry.
Round-Shaped Diamond Engagement Rings
Round diamonds are about as classic as they come. While the shape is round, the cut is likely "brilliant," meaning that it is cut to reflect light brilliantly. Round-shaped diamonds make up the majority of diamonds, accounting for 75% of all diamonds sold. Due to the way round diamonds are cut, they tend to sparkle and shine more than any other cut of diamond. Here are three of the most classic and timeless round-shaped diamond engagement rings that J.R. Dunn has to offer.
California-made Tacori is almost synonymous with classic diamond engagement rings, and this particular ring is no different. The Petite Crescent Bloom Twist Engagement Setting features a ribbon-like twisted band embellished with diamonds, a diamond halo around the round center stone and more diamonds underneath the mounting. You can customize the size of the center stone and the precious metal used. This sophisticated, elegant look will be stunning and breathtaking for years to come.
The A. Jaffe Diamond Engagement Ring Setting is sure to astound everyone who sees it. Available in stunning yellow gold, this engagement ring features a round center stone atop an open gallery that is lined with diamonds. The band features multiple pave diamonds down the sides and a gorgeously-textured band interior.
For ultra-simplicity and timelessness, you can't go wrong with this Simply Tacori Solitaire Engagement Ring. The four prong setting has a clean top view with a plain metal band and gorgeous details from the side profile of the ring. Its classic look makes it perfect for anyone who wants to capture the pure delight of a timeless engagement ring.
Cushion-Cut Diamond Engagement Rings
Cushion-cuts combine a square-cut diamond with rounded corners. For the first century of its existence, cushion-cut diamonds were the most popular of all the cuts, and today they are the second most popular cut when it comes to classic shapes. They are versatile and work well in almost any ring style, and they are loved for their antique feel paired with the modern look of a perfectly cut and incredibly sparkly diamond.
This Henri Daussi Cushion Halo Engagement Ring is both elegant and sophisticated, while simultaneously being dramatic and spectacular. A cushion-cut center diamond in the size of your choice is surrounded by a halo of diamonds. The band is lined with two rows of smaller diamonds, making this white gold diamond engagement ring breathtakingly beautiful and fit for the most incredible woman.
This unique Tacori Diamond Bloom Engagement Setting is a playful take on a cushion-cut ring. The center diamond is actually round, but it is surrounded by a halo of pave diamonds that give the look of a cushion-cut center stone. The ribbon-style band features several more diamonds, and the side-profile view shows off a classic Tacori artistic design under the center stone.
Unique-Cut Diamond Engagement Rings
Pear-Cut Engagement Rings
MARS Fine Jewelry designers' attention to detail and eye for sophisticated design holds true in their Pear-Shaped Diamond Halo Engagement Ring Setting. This striking ring features a pear-shaped center stone which sits atop a 14kt white gold, yellow gold or rose gold band. Diamonds line the top of the band, bringing even more shine and sparkle to this already regal ring.
Emerald-Cut Diamond Engagement Ring
Another classic, timeless diamond engagement ring by Tacori is this Dantela Emerald-Cut Bloom Engagement Setting. An emerald-cut diamond is surrounded by a crown of diamonds and stunning diamonds line the band with spectacular sparkle. The side profile has more diamonds and some structurally artistic features, and the signature crescent profile complete this incredible diamond engagement ring.
Marquise Diamond Engagement Ring
This Marquise Diamond Engagement Ring Setting by Robert Pelliccia is dramatic and classic all at the same time. The marquise-cut center stone is a dazzling feature that is only further intensified by the 18kt white gold diamond-enhanced band. This ring is stunningly simple, yet breathtaking and extravagant all at once, and it is sure to delight any recipient.
Oval-Cut Diamond Engagement Ring
For a classic take on a timeless symbol of love, take a look at Tacori's Oval Solitaire Engagement Ring Setting. There is nothing quite as classic as a simple yet beautiful solitaire engagement ring, and this ring exemplifies that. The oval-cut center stone stands atop a band of 18kt white, yellow or rose gold or platinum. Underneath the center stone are gorgeous sculptural elements and diamond accents that further extend the remarkable timelessness of this ring.
Regardless of what kind of diamond engagement ring you're looking for, J.R. Dunn can help. Whether you're shopping online or in-store, our sales professionals can help you define your vision and explore various options. Don't let yourself get overwhelmed by the endless options of engagement rings—get in touch with us today and let us help you pick out the perfect diamond engagement ring.
By

Jenna Fish
·
June 7, 2018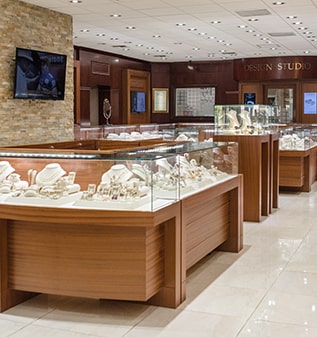 Visit us in real life.
4210 N. Federal Hwy.
Lighthouse Point, FL
33064
Visit us
Store location
Mon-Sat: —
Sunday:

Closed
4210 N. Federal Hwy.
Lighthouse Point, FL
33064