Celebrating 45 Years Together
By

Ann Marie Dunn
·
April 4, 2014
Basel Trip 2014
Jim and I went on a little jaunt to Basel, Switzerland. It reminded us of the old times (before the Sean days lol!). Even though it was a very short trip, we came back with a renewed excitement when we saw all the new watches from Rolex, Breitling and Chopard. Basel was hopping with excitement. The aisles were filled with retailers that came from all over the world. The excitement was in the air….everyone had an extremely positive outlook for 2014. Buyers everywhere!
After viewing the new product in watches, we strolled to Roberto Coin. We had a chance to meet with an old friend, Roberto Coin. We talked about their newest Pois Mois Collection, which has been unbelievably successful! We, nor other retailers can keep in stock (image courtesy of National Jeweler)!
Next, we had a chance to stop by Mikimoto and view their most prized collection of South Sea Pearls. Among which we were very struck by a "one of a kind" free form fiery jelly opal pendant suspended from a multi-strand 18k yellow neck chains with museum like quality golden South Sea pearls. We saw many other gorgeous opera length strands some of which were interspersed with gem quality 9-10 mm rare pink conch pearls. Others, with hand carved cameos, the quality of which we had not had the pleasure to see since we visited Torreo del Greco in Italy about 30 years ago!
The next stop was Marco Bicego. To our surprise they had one of their jewelers in front of their booth demonstrating all the hand chasing that goes on their beautiful pieces. We gazed at his artistic strokes and asked how long it takes to completely hand finish a 36" necklace. He said about 7 to 8 hours and that's just for one piece! Again, a renewed passion for this labor of love! They have a new collection which they are launching called "Lunaria" which means flower. It is absolutely beautiful, light but a very bold look. Our ladies are going to love it!
Next on our agenda was to visit all the gem dealers. Again, we were in awe with the selection of Burmese rubies, Ceylon sapphires, and Colombian emeralds. Prices on these have absolutely sky rocketed! To top it all off colored diamonds are being sold at premium prices and selection is very scarce. Opals are coming back with a vengeance. All colors and shapes and sizes. Of course the fiery boulder opals are always in very high demand.
Breitling
An amazing surprise dinner party at an undisclosed location. Lots of burlesque dancers, lots of great music…all reminiscent of the roaring 20's!
Chopard
We shared a wonderful evening with the warm and charming Chopard family. They surprised us with a cake and a champagne toast for our 45th Anniversary.
What a great trip to share with my hubby and business partner!
Till next time,
Ann Marie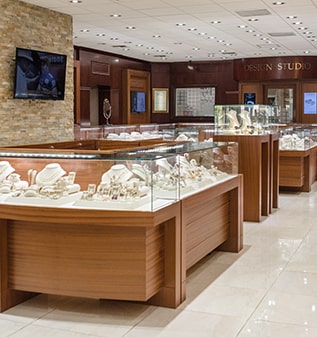 Visit us in real life.
4210 N. Federal Hwy.
Lighthouse Point, FL
33064
Visit us
Store location
Mon-Sat: —
Sunday:

Closed
4210 N. Federal Hwy.
Lighthouse Point, FL
33064
Save up to 15% on your first order.
Receive email updates on stuff you'll probably want to know about, including products, launches, and events. Unsubscribe anytime. Some exclusions apply…