Chimento Jewelry is Back at J.R. Dunn Jewelers!
By

Nina Glaser
·
August 23, 2014
J.R. Dunn Jewelers is saying "bon giorno!" (hello!) to Chimento jewelry's contemporary designs and classic style. Chimento and J.R. Dunn Jewelers have a lot in common: both are a two-generation family business, and both have an indisputable reputation for excellence.
Quality and Italian design are the top priorities for Chimento's fashion and fine jewelry collections. It's evident in the artisanal workmanship, fine materials, technological solutions and superior hand-finishing of each and every ring, bracelet, necklace and earring. These are jewelry pieces with strong Italian style, crafted of 18kt gold, with diamonds, and precious and semi-precious gemstones. Chimento has its own Gem Laboratory, guaranteeing the highest quality of the jewels incorporated into their pieces. Innovation and imagination have been hallmarks of the brand since it was established in 1964 by Adriano Chimento in Grisignano di Zocco, a province of Vicenza, Italy.
Authentic Chimento jewelry comes with an International Guarantee, which serves as a Certificate of Insurance, valid worldwide. (Remember that J.R. Dunn's policy is to double the length of any manufacturer warranty!)
Chimento collections that exude creativity, craftsmanship and attention to detail include:
Aeternitas – In ancient Rome, Aeternita was the divine personification of eternity; among the many virtues depicted on coinage issued under Vespasian, Titus, Trajan, Hadrian, Antonius Pius and Septimus Severus. Chimento's collection of jewelry bearing this name offers 18kt yellow and white, and 18kt rose and white gold rings with diamonds, and 18kt yellow and white gold rings with semi-precious (citrine, peridot, topaz amethyst) and precious (ruby, sapphire and emerald ) gems.
Armillas – A collection offering five textures and three shades of precious metal (18kt yellow, white and rose gold). Select from studs, braids and joints. Watch the interplay of light and shine on these faceted geometric, sinuous pieces. Wear them alone or combine them for a rich, distinctive look!
Bamboo Over – The bamboo plant, a member of the grass family, is one of the fastest-growing plants on earth. To the Chinese, it is a symbol of uprightness; in India it represents friendship. People have endowed bamboo with integrity, elegance and plainness. The Bamboo Over collection of Chimento wraps wearers in style, with a graduated vertical layout of 18kt yellow gold embellished with white diamonds in a bracelet and ring, as well as Asian-inspired earrings.

Couri – Chimento gets to "the heart of the matter" with this collection of heart-shaped necklaces. Select from pave, quilted and openwork designs in 18kt gold, and gold with diamonds.

Diana – This modern and original gold and diamond jewelry collection was inspired by the late Lady Diana. The chic pieces are geometric in shape. Selections include 18kt yellow gold and diamond earrings, rings and necklaces, and an 18kt white gold and diamond ring.
Double/Double Join – These entirely reversible bracelets, rings, chokers and earrings are crafted of high-polish 18kt white and yellow gold or 18kt yellow gold with a shiny satin effect. Some pieces have side diamond insets. The look is softly and always unpredictable.
Dune – Rings and earrings blaze through the interplay of 18kt gold and diamonds in this elegant, understated and timeless collection. Flowing lines deliver a simple yet substantial look.

Febo – Several squares nestle together to create a circular shape in this bold-looking collection. 18kt rose, white or yellow gold, set with diamonds, includes rings, necklaces and earrings.

Fedi – Say "I do" to these 18kt white and yellow gold and diamond wedding rings. Perfect circles that have no beginning or ending.
Infinity – This Chimento collection was inspired by the trend of the chain. Golden layers are woven into pieces of 18kt yellow, white gold or sterling silver jewelry featuring mother-of-pearl, diamonds and other precious and semi-precious pave gemstones.
Stardust – This collection of ergonomic jewelry embraces one's body. Dainty diamonds embellish pieces appealingly, twinkling like the stars at night, atop rings and bracelets set in 18kt white or yellow gold, 18kt white gold with diamonds, and 18kt white gold with diamond and sapphire earrings round out this distinctive, decisive collection.
Stretch/ Stretch Multiple – Flexible in form, these unique pieces feature modern, flowing lines. This is jewelry that moves with you! A concealed magnetic clasp provides easy closure. Choose from 18kt rose gold, yellow gold or white gold bangle; 18kt yellow gold or white gold necklaces; 18kt rose gold, yellow gold or white gold with diamond rings; 18kt white, rose or yellow gold bracelets; silver bracelets with ceramic or ceramic and semi-precious stones (amethyst, blue topaz, citrine quartz) or silver and pearl.
Additionally, a Red Carpet collection of beautiful jewels featuring pieces named for "the rich and famous" among Hollywood and world royalty. These works of art include necklaces crafted of white gold with white diamonds named "Elissa", "Romy", "Grace", "Audrey", "Marilyn", and "Katherine" (which also has earrings); a white gold necklace with white diamonds and rubies labeled "Raina"; a white gold bracelet with white diamonds tagged "Jacqueline" ; and a white gold necklace with diamonds and rubellith called "Elissa". There is also a white gold ring with diamonds, rubies, emeralds and sapphires that was dubbed "Marlene".
Speaking of red carpets, it's important to share some of the special places that Chimento jewelry was seen! Did you tune in to the 4th Annual Critics' Choice Television Awards? Chimento was there! Were you at the iHeart Radio Ultimate Pool Party in Miami Beach in the summer of 2014? Chimento attended! Have you sailed aboard the Fabulous Costa cruise ship? A Chimento collection is presented onboard the Italian cruise line. What about this year's 2014 Billboard Music Awards and episodes of "American Idol"? Cimento jewelry can say, "Si! Si!" ("Yes!" "Yes!") The jewelry was also shown on Jennifer Lopez' s "We Are One," the 2014 World Cup Anthem videotape.
The successful jewelry-maker has a presence throughout Europe, Asia and the Americas. We know that it's due to the incredible aura of charisma emanating from each and every one of their designs!
J.R. Dunn Jewelers is proud to be a retail partner of Chimento. Visit the Lighthouse Point showroom to see Chimento earrings, necklaces, bracelets and rings from the Armillas, Bamboo Over, Double Join, Link Infinity, Stardust, Link Febo and Dune collections, or log-on to www.jrdunn.com. You can also phone J.R. Dunn Jewelers' Internet department toll-free at 1-866-362-5787.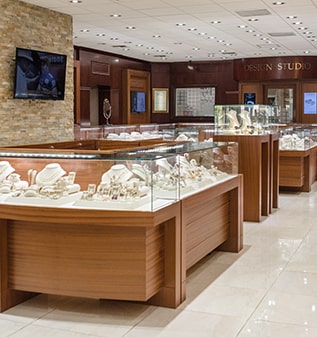 Visit us in real life.
4210 N. Federal Hwy.
Lighthouse Point, FL
33064
Visit us
Store location
Mon-Sat: —
Sunday:

Closed
4210 N. Federal Hwy.
Lighthouse Point, FL
33064
Save up to 15% on your first order.
Receive email updates on stuff you'll probably want to know about, including products, launches, and events. Unsubscribe anytime. Some exclusions apply…