Chubby Checker Files Lawsuit Over Cufflinks
By

Dan Gerrell
·
September 15, 2015
It has become all the rage for up-and-coming jewelry designers to send retailers photographs of celebrities wearing the pieces that they have created. Your first impulse, as a jewelry retailer, might be to post the image of a celeb wearing the latest
ear climber earrings
to social media or, even worse, on your ecommerce site. It's so immediate and easy to share. Resist the urge and cover your bases!
What "Mom & Pop Jewelry Shops" need to know is that it is imperative to mind one's "Ps & Qs" when it comes to using such imagery which, in this case, relates to Permissions and Questions. To be safe, you should ask your vendors if they have the proper licensing agreements in place, including the use of the visual for commercial purposes. Are they allowed – legally – to use a celebrity image, likeness or name? Also, you may wish to request that your vendors indemnify you in the event of a right of privacy, right of publicity or trademark infringement lawsuit. You do not want to end up embroiled in a legal issue under any circumstances! Ensure all proper documentation has been signed, sealed and delivered. Most insurance policies have an intellectual property exclusion, so be sure to read yours. It would also be prudent to consider an additional cyber liability policy if you engage in any online marketing.
The most recent alleged trademark infringement involves Ernest Evans, a.k.a. Grammy Award-winner Chubby Checker, and several major retailers said to be selling an accessory using his name. The $9.50 retail cost per pair of The Knotz, Chubby Checker cufflinks are manufactured by Wurkin Stiffs, a fashion company based in Nokomis, FL. The black and white cufflinks are crafted of synthetic cord. The firm sells the cufflinks on their corporate website and distributes through Amazon.com, Macy's Inc., Nordstrom Inc., and Squire Fine Men's Apparel. Evans alleges that he holds the trademark to the Chubby Checker name and the defendants did not get permission through his licensing companies. The 73-year-old singer-turned-entrepreneur has asked U.S. District Judge James I. Cohn to stop selling the cufflinks and award damages ranging from sales profits to emotional distress and punitive damages.
This is not the first time Evans has reached out to the court system. He previously settled with Hewlett-Packard for allegedly selling a penis-measuring app called "The Chubby Checker."
Official licensed merchandise under the Chubby Checker name is said to include candy, hot dogs, meat products, popcorn and water.
Evans' lawyer, Michael Santucci, has been quoted as saying that nothing less than an eight figure award would be sufficient.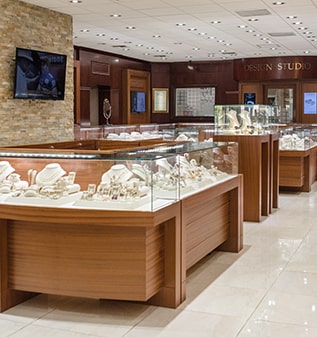 Visit us in real life.
4210 N. Federal Hwy.
Lighthouse Point, FL
33064
Visit us
Store location
Mon-Sat: —
Sunday:

Closed
4210 N. Federal Hwy.
Lighthouse Point, FL
33064
Save up to 15% on your first order.
Receive email updates on stuff you'll probably want to know about, including products, launches, and events. Unsubscribe anytime. Some exclusions apply…