Emerging Trend: Men's Engagement Rings
By

Jenna Fish
·
May 22, 2018
Engagement rings have always been a symbol of a promise and a commitment to get married in the near future. While traditionally given to women by their boyfriends, engagement rings are becoming more popular for men to wear. Some women are choosing to propose to their boyfriends rather than the other way around and they want a physical representation of their love to present to their boyfriends upon proposing. Additionally, LBGTQ+ couples are getting engaged now that gay marriage is legal in the U.S., and they are electing to wear men's engagement rings to show the world their love and commitment. Outside of these two circumstances, some men simply wish to have a symbol of their engagement. Because of all of these reasons, men's engagement rings are becoming increasingly common and are a growing trend amongst today's engaged couples.
Men's Engagement Ring Styles
The great thing about men's engagement rings is that there are so many styles to choose from. Whether you want something simple and small, bold and ornate or unique and personal, J.R. Dunn Jewelers has a large selection of stylish men's engagement rings, and you're sure to find the perfect one. Take a look at the different styles available and some examples of each.
Simple & Minimalist
Often, men want an engagement ring but don't want it to be too showy or extravagant. The classically simple Crown Ring White Gold & Black Carbon Band is a perfect option for this type of guy. This men's engagement ring is minimalist while chic yet masculine.
For a bold but simple look, this Triton Tungsten Carbide Band is perfect. This men's engagement ring shows the natural beauty and strength of tungsten carbide, and it is embellished with three distinct cuts around the band. This ring embodies strength, durability and boldness.
Modern
It's only fitting for a modern man to have a modern ring. If that's your couple's style, we've got some incredible modern men's engagement rings. The Lashbrook Flattwist EuroSquare Band is stunning and unique—it has a square shape, an acid-finished Damascus steel and a unique, one-of-a-kind flat twist pattern.
The Lashbrook Cobalt Chrome & Meteorite Band is distinctive and contemporary. The inlay is made with actual meteorite, while the beveled band is a modern cobalt chrome. The end result is a fashionable yet original men's engagement ring.
Two-Tone
With a gorgeous balance of 14kt rose gold and 14kt white gold, this Crown Ring Two-Tone Band is a perfect example of elegant masculinity. Its striking details include textured metal and it is a great way to show the world that you are proudly spoken for.
For a more modern take on a two-tone masculine engagement ring, consider this Crown Ring White Gold & Black Carbon Band. With 18kt white gold as its base and a thick line of black carbon running through the center, the streamlined, chic design embodies rugged sophistication and bold masculinity.
Nature-Inspired
For the robust outdoorsman, there are many nature-inspired men's engagement rings to choose from. One of the most popular is the Lashbrook Cobalt Chrome & Camo Band. The cobalt chrome perfectly outlines the 4mm camo inlay, perfectly combining ruggedness and class.
For another striking nature-inspired engagement ring for men, take a look at the Lashbrook Damascus Steel & Wood Band. This ring is perfect for that strong and reliable man who loves the outdoors and wants a touch of it with him all the time. The wooden inlay comes from an African hardwood, and the Damascus steel is acid-finished for a perfect balance of industrial and rustic style.
Diamond-Embellished
Diamonds aren't just for women anymore. Some men want their engagement ring to be just as sparkly as a classic women's engagement ring, so we've got a number of stunning diamond-embellished men's engagement rings. This Crown Ring White Gold Diamond Band is made of 18kt white gold and features pave diamonds set in sections throughout the band. It's an innovative adaptation of a traditional diamond engagement ring that is perfect for a diamond-loving guy.
This Tacori Diamond & Sterling Silver Ring is an absolutely dazzling diamond-embellished men's engagement ring. With several pave diamonds inset into the top of this ring, it will sparkle and shine in the best way possible, telling the world in a bold and beautiful way that you are taken.
How to Choose the Perfect Men's Engagement Ring
Whether you're buying for yourself or your soon-to-be fiancé, choosing the perfect men's engagement ring doesn't have to be overwhelming. Knowing the style preference of the one you're buying for is key, as is knowing their opinion about men's engagement rings. Does he want something showy to match his colorful personality? Does he want something masculine and rugged that reflects his lifestyle? Or does he want something simple that is just a small, sweet statement of his relationship?
You also need to consider the metal of the ring and any embellishments that he may desire. Some available metals include white gold, yellow gold, rose gold, steel, tungsten carbide, sterling silver, zirconium, titanium and chrome. Embellishments include diamonds, meteorite, black carbon, wood and more. There are so many options available, and by knowing the personal preferences of your guy, you can easily select the perfect men's engagement ring that is sure to wow him. When you're ready to take that next step and buy a men's engagement ring, we encourage you to visit our store or give us a call—we'll help guide you through the process and make it simple and enjoyable.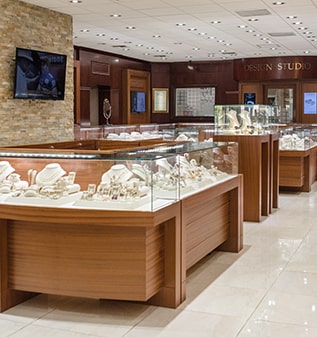 Visit us in real life.
4210 N. Federal Hwy.
Lighthouse Point, FL
33064
Visit us
Store location
Mon-Sat: —
Sunday:

Closed
4210 N. Federal Hwy.
Lighthouse Point, FL
33064
Save up to 15% on your first order.
Receive email updates on stuff you'll probably want to know about, including products, launches, and events. Unsubscribe anytime. Some exclusions apply…