Engagement Ring Shopping
By

Nina Glaser
·
December 9, 2014
Congratulations on your upcoming engagement! While the trend today is for cuples to shop for an engagement ring together, some men prefer to plan a surprise proposal.
Rest easy. Shopping for an engagement ring without her can be "Mission Possible"…when you have the right information. That's where we come in.  Following is a roundup of "things to know before you go," which we'll try to keep it short, sweet and simple. Because, let's face it, you've got enough on your mind without "information overload!"
Bottom line: The shopping expedition for an engagement ring is about her. Ask yourself "What would she buy?" and make it your mantra. What she wants in a ring will trump what you like every time! An engagement ring is something she'll wear 24/7, 365, forever; with everything from sweats to eveningwear.
Ask her friends and family – yours and hers – for help. Be sure whoever you talk to can keep a secret. They can provide indispensable information that you can use. But you may already know more than you think about what she will like. Look at the jewelry she already has; it'll provide clues to her preferences.  What's it made of? Yellow gold? White gold? Rose gold? Two-tone? What's her style? Does she prefer vintage? Classic? Contemporary? Are her pieces delicate or chunky? Simple or ornate?
The same people can also help you with her ring size, if you don't already know it.  If nobody knows, borrow one of her rings and trace the inner circle of one of her rings on a piece of paper, or press it into a bar of soap to make an impression. Or slip one of her rings onto your finger as far as it will comfortably go, mark the stopping point in ink and show the mark to a jeweler for assessment. This will give the jeweler a ballpark idea of her ring size.  You can also propose with a simple solitaire "stand-in" ring, and then go shopping together so she can select the perfect ring.
Before you set out, set a budget for this monumental purchase. Stand firm. You want to get the best ring you can afford, without going into debt. Also, settle on the metal type; gold or platinum.
There are two parts to an engagement ring: the diamond and the setting. The key to successful engagement ring design is getting the shape of the diamond and the setting in perfect harmony.
The Diamond
 The diamond will account for the vast majority of the ring's cost. Get the best bling for your buck! Buy an independently certified diamond from a top lab, such as the Gemological Institute of America (GIA), American Gem Society (AGS) or Forevermark.
 Shapes
Asscher – Extra facets give added brilliance to this stepped square cut
Cushion – A hybrid of rectangle and oval shapes, this distinctive, antique style with rounded corners. It looks like a pillow.
Emerald – A quietly elegant rectangular shape.
Heart – A fancy shape that looks as its name implies!
Marquise – An oval with pointy ends, the stone can look larger than it is.
Oval – The shape that puts a twist on the classic round is experiencing a revival.
Pear – An unconventional cut.
Princess – A square, brilliant feminine shape with intricate faceting for extra sparkle.
Radiant – An additional sparkle to an emerald shape is achieved through more facets on the underside.
Round – The most traditional and often-purchased shape, also known as "brilliant."
Marquise and oval shapes will make fingers look longer; a wide band can make short fingers look shorter.
Quality
There are a few things we must share before you Click here to learn all about the 4 C's: cut, color, clarity and carat:
 What does your eye see? Pay for the obvious color, size and sparkle
Diamonds with clarity of SI2 (slightly included) or better should be "eye clean," meaning that they have no imperfections that are visible to the naked eye and will show no discernible difference in outward appearance.
To get the most "bang for the buck" go "near colorless" (G-I grading); buy a stone just under the landmark weights of ¼-, ½- and full carats); an "eye clean" diamond, with no imperfections visible to the naked eye will show no discernible difference in outward appearance.
Get the highest cut grade within your budget, rated "very good," at least, on round diamonds. For fancy shapes, look at a number of stones to find out what appeals to you.
Also, as Cost is often considered the fifth C, bear in mind that while diamonds are the most popular choice for engagement rings, they're not the only option. Consider rings that have another precious or semi-precious center stone with diamond side stone or accents. Maybe you want to incorporate her birthstone? Her favorite color? Sapphires are a great choice, second only to diamonds in hardness. This makes them especially well-suited to daily wear. They also come in just about every color imaginable. A
colored stone
may allow you to purchase a bigger, higher-quality gem. The possibilities are endless!
The Setting
The mounting sets the tone for an engagement ring.  A number of types of settings are available, from classic to contemporary. Among the varieties available for your consideration:
Baguette – These side stones are most commonly rectangular, with rows of step-like facets.
Bezel– A metal rim, with straight or scalloped edges, fully surrounds the perimeters of a stone.
Channel – A row of stones with no metal separating them are sandwiched between two grooves (channels). Diamonds are kept flush and fit snugly. This style works particularly well for women with active lifestyles.
Bar Channel – Channel setting with bars between the stones that allows more light to enter the side stones.
Channel End – Stones are secured with thin vertical bars of metal between them, either around all or part of the ring.
Half-bezel – A  metal ring partially surrounds a stone, leaving part of the girdle (where the top of the stone meets the bottom) exposed.
Halo – This look, with small diamonds surrounding a center diamond, has a high "wow!" factor.  The setting secures the ring's center stone underneath a rim decorated with diamonds (pave-, invisible- or channel-set).
Invisible – A grid of princess-shaped or square diamonds are set side-by-side to give the appearance of an all-diamond surface.
Pave – A timeless style, with tiny diamonds held in place by raised gold beads that secure flush small stones. This results in additional sparkle and the illusion of greater size.
Prong– Three (3) to eight (8) claws can hold a stone firmly in a metal "head" or "basket." Prongs may be pointed (protects heart, marquise and pear-shaped center stones), rounded, flat (usually best for an emerald-shaped center stone) or V-shaped. Among the pros of this setting: a raised diamond's light disperses easily, creating flashes and displaying rainbow colors when not hindered by much metal.
Tension – A diamond is held in place by compression-spring pressure, which holds the stone firmly in place. The impression is that the stone is "floating."
Three-Stone – Stones representing you past, present and future share "equal billing" in this setting. They are either uniform in size, or the center stone is larger, giving a slightly more tapered look to the piece.
Be sure to buy her engagement ring from a place that rates well online.  Check the Better Business Bureau (BBB), Google Reviews, The Knot, etc.  The store should have a long-standing, solid local reputation.  Staff should be knowledgeable and allow you to compare diamonds side-by-side on a white background, looking at them through a loupe. Be sure to get an appraisal on the ring and find out about the location's return and diamond upgrade policies.  And, while you're there, check out the wedding bands!
Once she's said "yes," be sure to get the ring insured.
As an independent jeweler, J.R. Dunn has unique styles and settings, along with the ability to make a custom ring.  The family-owned-and-operated business, located in Lighthouse Point, FL, knows that "comfort is key" when looking for a jeweler (and jewelry!). The two generations of Dunns that you'll find on-premises considers customers a part of their extended family!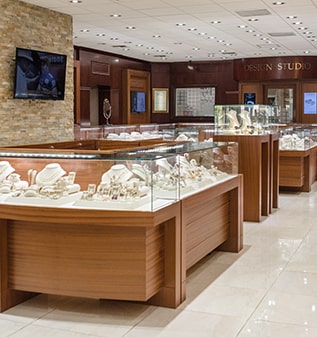 Visit us in real life.
4210 N. Federal Hwy.
Lighthouse Point, FL
33064
Visit us
Store location
Mon-Sat: —
Sunday:

Closed
4210 N. Federal Hwy.
Lighthouse Point, FL
33064
Save up to 15% on your first order.
Receive email updates on stuff you'll probably want to know about, including products, launches, and events. Unsubscribe anytime. Some exclusions apply…