Engagement Ring and Wedding Band Trends for 2015
By

Nina Glaser
·
April 8, 2015
Getting married gives couples the opportunity to communicate who they are, from the proposal and offering of an engagement ring to the venue, food and beverage, invitations, attire and wedding bands.  You can probably count on one hand the times of your lives when you'll find all eyes are on you, with everyone just waiting to see how you express yourselves.
When it comes to engagement rings and wedding rings, there's a strong spirit of individualism in the air. Are you dramatic? Relaxed? Romantic? Taditional? Choices in engagement and wedding jewelry give you the opportunity to express yourselves beautifully, whoever you are!
If you're looking to "put a ring on it" in 2015, here's what's trending right now:
Engagement Rings

While recent history has shown the top shapes for diamond engagement (in order of popularity) to be round, princess, cushion, Asscher and emerald, and white gold the lead choice of precious metal, followed by platinum and yellow gold, there are some outstanding options out there for millennial couples to embrace, including:
Color – Check out a new hue, with an emerald, ruby, sapphire or topaz center stone. Blue, champagne and pink diamonds are also gaining in popularity.  This is an easy way to add meaning and symbolism to your ring.
Diamond clusters – Small stones gather together to form a larger circle (or other shape). This type of ring has more sparkle per square inch than a single stone.
Double row and split shank bands – These options give you a chance to display your creativity!
East-West Settings – The gem sits on its side, rather than straight up-and-down. A horizontally set stone makes the gem look larger. This decidedly different look works well with fancy shapes, like emerald, marquise and oval.
Eternity bands as engagement rings – Declare your love in a glamorous way!
Fancy shaped diamonds – Cushion (with a pillow-like appearance), emerald, heart, marquise, oval, princess shapes add visual interest. Pear shaped diamonds, as accent and center stones will be seen as well; this teardrop form is often found in antique and period jewelry.
Floral Accents – Details taken straight out of the garden include flowers, petals and vines that can twist up the sides and surround a diamond.
Halos – This style, where smaller stones frame the center, making it appear larger, continues to be popular, having secured its place in history as a new classic.
Rose gold settings – Softness and warmth exude from this pink-toned precious metal. The coppery tones provide a very complementary contrast to sparkling white diamonds.
Stacking bands as an engagement ring – A fresh take on a standard single band, additions can be made as the years pass for significant milestones.
Twisted bands – Add some swirl and curl!
Vintage rings have been re-imagined – Choose from hand-engraving, wheat and milgrain motifs and filigree finishes.
Yellow gold settings –  This traditional choice is making a major comeback, as brides-to-be go back to basics.
Of course, custom-designed rings and the iconic solitaire are always in vogue.
Wedding Bands
Brides-to-be are looking at eternity bands as well as stacking rings to wear as wedding rings. Some will want to match their wedding band to their engagement ring, but it's also fashionable not to!
Wedding rings with pave diamonds offer an elegant look while giving a nod to vintage appeal, influenced no doubt, in part, by "Downton Abbey" (think afternoon tea, garden parties and al fresco dining).
Men are now choosing bands that get them noticed! Among the popular and noticeable fabrications and styles of wedding bands available for men:
Etching and borders
Two-tone or mixed metals (cobalt chrome with rose gold, for example) and unique patterns, with and without stones (white and colored)
Palladium – A strong metal that's a relative of platinum and suitable for everyday wear.
Platinum and gold bands that incorporate diamonds or colored stones.
Rustic-looking, hammered pieces that have a striking artisan appearance
Sustainable woods like bamboo, ebony and rosewood
A variety of metals, from cobalt to palladium, platinum, titanium, and tungsten carbide.  
Cobalt, a hard (five times more so than gold!), lustrous white metal, is where modern technology meets sophisticated style. It won't scratch-resistant, won't chip, fade, tarnish or shatter. It's reliably strong and shatterproof.
Palladium, a sister metal to platinum, is modern and elegant. It's strong, non-tarnishing and hypo-allergenic. Light, comfortable to wear and affordable (at half the price of platinum), it has been used since 1939, when platinum was declared a strategic government resource during World War II. No rhodium plating is required.
Platinum is considered the most precious of all jewelry metals, valued for its purity, rarity and strength. Naturally white, and shiny, it's heavy and hypoallergenic. It won't tarnish but, instead, age with a lustrous patina developing over time. 
Titanium is a silver-colored, durable yet lightweight metal priced for its strength. 
Tungsten carbide is more durable than other types of wedding ring materials. Light grey in color, it's resistant to corrosion, scratching and tarnishing. A bit heavier than 14kt gold, you must be sure to get the right size from the get-go, as resizing is not an option.
Just as you know he or she was "the one," you'll know what ring is truly yours. Where can you find help with your selection? There are videos, images and blog entries on the web; social media sites; magazines; and local private, independent jewelers and retailers, like J.R. Dunn Jewelers, as well as national and regional jewelry chains.
Visit our Lighthouse Point showroom to browse assorted ring styles, search more than 15,000 certified loose diamonds of all shapes and sizes, cut, color and clarity, and view the engagement ring settings and wedding bands offered from the bridal designs of Art Carved; Calla Cut; Crown Rings; Forevermark; Michael B; Michael M.; Robert Pelliccia, J.R. Dunn's award-winning in-house designer who creates one-of-a-kind pieces; Sasha Primak; Scott Kay; Simon G.; Tacori; Varna; Vatche; and Verragio. There are also ready-to-give rings that are ready-to-go.
When you're ready, go to the source: J.R. Dunn Jewelers, your engagement and wedding ring specialist!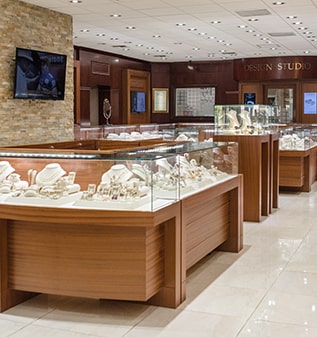 Visit us in real life.
4210 N. Federal Hwy.
Lighthouse Point, FL
33064
Visit us
Store location
Mon-Sat: —
Sunday:

Closed
4210 N. Federal Hwy.
Lighthouse Point, FL
33064