Engagement Rings Boca Raton & Miami - Where to Shop?
By

Sean Dunn
·
May 5, 2014
Guys, if you are getting ready to pop the question or your fiancee to be wants to test drive a few rings it is important to have a game plan.  Usually if you are at the point of wanting to go physically see some engagement rings, you've done enough research online and probably browsed through quite a few bridal magazines together.  If you haven't done that yet, I highly suggest you do so before trekking from Miami to Boca in search of the perfect engagement ring.  In the magazines you will find tons of designer rings like Tacori, Verragio, Scott Kay and several others.  They truly make beautiful rings and most have a slightly modern twist on vintage styles.  You will also see rings advertised from the iconic names in the jewelry business like Tiffany, Cartier and Harry Winston to name a few.  These giants of our industry seemed to have always stayed true to a more classic design, less frills, but that is easy when you a showcasing a 10 carat diamond which not many of us can afford. The point is you'll get an idea of what she likes from vintage styling to classic or perhaps, a blend of the two.
So now you've got your homework done and you are ready to see some rings.
I suggest you make a night of it and go to a nearby mall with big name fancy jewelry stores and try on settings first. Sometimes they look different in the magazines than they do on the hand and nothing like taking a test drive and actually see how the ring will look on your loves finger.  You fiancee to be will have a blast trying on rings from the likes of Harry Winston, Cartier and Tiffany, just be sure to complete the experience and take her nice dinner afterwards. Bal Harbour shops (or Aventura) is a great place to do this as they have some yummy restaurants there.
Next it time to try on rings from bridal designers like Tacori, Scott Kay and Verragio.  Go on their respective websites and each should have a dealer locator where you can find who carries their engagement rings in Miami, Ft. Lauderdale or Boca Raton.  Some dealers will have more inventory than others so you may want to jump on the authorized dealer's website and check out review sites and read what people are saying about the store before you make a trip 40 minutes up the road to shop for your ring in Ft. Lauderdale or Boca Raton. Most of the jewelers who carry branded engagement rings in South Florida are family owned and operated and will have their own private label rings to choose from too if you'd rather budget more for the diamond and a little less for the setting.
Once you narrow the engagement ring setting style down with her, most guys will venture out on their own and hunt down that perfect diamond.  This keeps thing romantic by keeping the exact ring and timing of your engagement a surprise. Again, it is best to do your research online prior to shopping in-stores so you can get a good feel for what type of diamond you can get for your money. Start by checking out the video produced by the Gemologial Institue of America below and learn the 4'c.  It is all about rarity.  The rarer the diamond is the more it will cost.
Once you've got the 4 C's down go online and see what the various combinations of color, cut, clarity and size will run in dollars and cents. Ultimately you will want to see what these diamonds look like in person but you want to be prepared. When you go into the jeweler show them what you have been looking at (GIA reports) and ask right away whether they are willing to compete in the same ballpark or not.  If they don't take the research you've done seriously, it is time to turn around and walk out. There are pleny of other jewelers in South Florida who want your business and will price things competitively.  If you compare apples to apples you will also find that many independent jewelers will not only compete on price but also offer you more added value when compared to the online diamond stores.  There are some nice little perks when you buy locally like 100% upgrades, ring cleanings and inspections etc. Plus a good jeweler will want to build a relationship with you so you come back for future purchases like wedding bands, anniversary gifts etc.
Why are the prices different on diamonds that appear to have the same exact qualities?
This is probably the hardest part of diamond shopping and will warrant you driving from Miami to Boca Raton looking at different diamonds. Even though two diamonds are graded the same it doesn't mean they will look exactly alike and how they actually look to the naked eye and under a microscope will make a difference in the price of 5%-10% or even a little more.  A good jeweler or gemologist will point out these subtle differences to you and explain how they affect the price. If your jeweler is working in that "ballpark" he is being fair.  The best case scenario is try and go to a jeweler who can show you multiple diamonds of a similar size, color and clarity side by side so you can pick the best one with your eyes.  Not only will this save you some time, it is worth the effort simply because you will feel great knowing you searched high and low and found her the prettiest diamond you could afford!
Finding the right jeweler
How do you find these jewelers who will shoot you straight and be in the "ballpark" when it comes to diamond prices? Most of the time you have a friend or relative who may have built a relationship with a jeweler over time and this is definitely worth exploring, just don't over commit.  You don't want to feel obligated to purchase if the friend of a friend doesn't seem to have the right deal or the right diamond for you.
The best way to find jewelry stores that specialize in engagement rings in South Florida is to actually go online and see how committed each store is to the diamond and engagement ring business.  If they carry a lot of the big bridal brands online or show tons of diamonds on their website the store is probably worth a visit.  Also, I am sure you've seen quite a few jewelry stores that advertise diamonds and engagement rings on TV and radio.  Simply pick up the phone and call them, let them know what you are looking for and ask if them about their selection and if they are competitive with the pricing you are finding online.
I am betting that you will have the most favorable responses from the family owned independent jewelers.  The point is to save you time and make sure you get the best experience whether you end up buying your engagement ring in Miami, Boca Raton or online. I hope this post will give you some valuable information and help you get a great deal.  This is an exciting and enjoyable time in your life and we'd be honored if you stop by and give J.R.Dunn Jewelers a try too. We pride ourselves on having a large selection of GIA certified loose diamonds and ring settings for you to choose from and we promise to shoot you straight.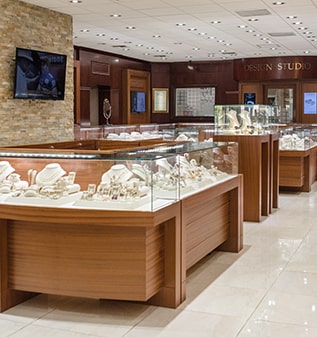 Visit us in real life.
4210 N. Federal Hwy.
Lighthouse Point, FL
33064
Visit us
Store location
Mon-Sat: —
Sunday:

Closed
4210 N. Federal Hwy.
Lighthouse Point, FL
33064
Save up to 15% on your first order.
Receive email updates on stuff you'll probably want to know about, including products, launches, and events. Unsubscribe anytime. Some exclusions apply…