Five Most Popular Engagement Rings
By

Sean Dunn
·
October 1, 2014
Proposing to the woman of your dreams can be exciting and terrifying all at the same time. From choosing the perfect date and location to figuring out what you're going to say, and most importantly what diamond your going to buy, you may feel like you're already planning the wedding. Engagement rings come in many shapes, sizes, styles and colors. Since she'll be wearing this piece of jewelry for the rest of her life, finding the right ring to fit her style and personality is critical.
Since diamonds are our specialty at J.R. Dunn, we've compiled a list of our most popular engagement ring styles to help you get a better idea of what she may want.
1. If she a vintage lover, Simon G Passion Halo creates the perfect mix of 18k white gold and 18k rose gold plus a twisted diamond band that would be perfect for her.
2. Floral and timeless, this 18k white gold bezel set halo engagement ring and diamond band will compliment her center stone.
3. Tacori almost always makes our list! This platinum channel set Dantela halo large pave setting is even more gorgeous in person.
4. Make sure she's sitting down when you propose to her with this Forevermark 'The Center of My Universe' white gold diamond ring fitted with 1.72tw diamonds surrounding the center stone.
5. If she loves rose gold, this may be the winner. Pretty and pink, this Tacori 18k rose gold pave criss-cross diamond engagement setting is sure to be a showstopper.
The engagement ring you chose is something she'll wear for the rest of her life. Find a ring that embodies her personality and style. Maybe she's understated, over the top, modern or vintage.  If you're looking for a custom ring, give us a call at 866-362-5787. We'd would love to design your dream ring.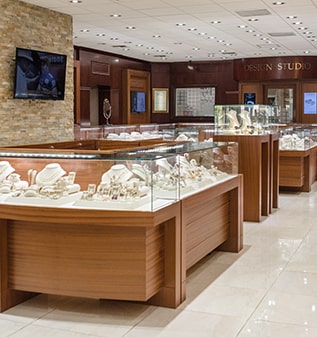 Visit us in real life.
4210 N. Federal Hwy.
Lighthouse Point, FL
33064
Visit us
Store location
Mon-Sat: —
Sunday:

Closed
4210 N. Federal Hwy.
Lighthouse Point, FL
33064