How to Buy Accessories for Men: Expert Advice Edition
By

Jenna Fish
·
May 21, 2018
Father's Day is just around the corner, and that special guy's birthday, anniversary or other special event might be looming in the near future as well. We know you want to get him an incredible gift that he loves.
Men can be challenging to buy for, even when you feel like you know them extremely well. In order to give a unique gift that he is sure to love, you need to look beyond the typical ideas of gift cards, shaving kits and cologne. Think outside the box and consider these tips from industry experts on how to select the best accessories for the men in your life.
Think About Heirloom-Worthy Accessories
Having something to pass down to their children one day, particularly their son, is important to some dads. While some men choose to pass down tools, firearms or works of art, others love to pass on heirloom-quality accessories, such as a watch or ring. Celebrity stylist Alexander Allen says, "One accessory every man should own is a luxury timepiece, which can be enjoyed now and passed down for future generations as a family heirloom." No matter what type of style your man has, there is a nice, luxurious watch out there that will fit his style and his lifestyle. Even if a high-quality watch wouldn't be realistic for him to wear every day, he'll cherish those special occasions when he does get to wear it. A high-quality timepiece is also more than just a gift for now—it allows men to gift a child (whether a son, nephew or other close relative) with something luxurious, special and significant when they get older. It makes passing down luxury a part of their legacy. If you're searching for the perfect heirloom-worthy watch, get in touch with the professional salespeople at J.R. Dunn. They know that buying a watch is an investment and can also be emotional purchase. They are here to walk you through the entire process, so you and your guy are both thrilled with the selected watch.
Make It Unique and Universal
You want to get your guy something that stands out, but you don't want to make him feel uncomfortable or odd while wearing or using whatever you bought him. Dom Desmond, founder of Critically Endangered Socks, says, "Men like to feel like they have a personal sense of style, but also want to fit in with their mates; they don't like to feel out of place." A fun example of this are the products Dom Desmond created. Colorful, fun socks are playful and have a comfortable feel to them. All men wear socks, but they can express their own personal style, while staying on trend by wearing playful socks. This unique yet universal gift like a pair of Critically Endangered Socks may reflect the personality of the man you're buying for perfectly. If your guy isn't into fun socks but you still want to gift him with something unique and universal, consider selecting another widely-used accessory in his personal style. Some stylish sunglasses, a snazzy watch or a trendy ring are also great ideas for that special guy.
title="Gucci Sterling Silver Bee Money Clip" target="blank">
Choose Something with a Story or Personal Meaning
Even the most stoic men love significance and passion embedded in their accessories. Consider purchasing a gift that donates proceeds to a charitable cause, like Critically Endangered Socks, or buying an accessory that came from the country of your man's ancestors. Maybe you engrave a date or message into a gift, or perhaps you talk to his parents or siblings about something that has some personal significance to him. If you're looking for something to engrave, consider this title="Gucci Sterling Silver Bee Money Clip" target="blank">Gucci sterling silver money clip. It has the classic interlocking G on the front and it can be engraved with a name, date or sweet message. Maybe you want to go all out and get your man an iconic and classy Rolex® watch. All Rolexes have a plain case back in stainless steel or precious metal, which is perfect for engraving. You can commemorate life's special moments with a personalized, engraved Rolex inscribed with an anniversary date, graduation date, or anything else. No matter what accessory you select for him, putting thought into it and going with something that reminds him of something with personal significance is always going to be a hit.
Consider His Lifestyle
While every man can use some nice accessories for that special occasion, when you're purchasing a gift for him, be sure to consider his overall lifestyle. Some men love fine jewelry and luxurious accessories, while others prefer simple and durable accessories. Know your audience and know what your guy would appreciate more. Maybe he never wears ties to work but he is constantly on the hunt for new, fun socks to wear with his khakis. Or maybe he thinks personalized gifts are cheesy, but you know he would love a lavish and stylish new watch. You know your man best, so think about what his lifestyle requires of his accessories and make sure you're buying him something he'll love and wear for years to come. If your guy is on the simpler side and doesn't want anything too flashy or ornate, consider getting him this Tag Heuer Carrera Watch. Its black dial and stainless steel bracelet are sleek without being too over-the-top. If you want something more lavish for your man who loves looking chic and snazzy, check out this Tag Heuer Formula 1 Two-Tone Watch. The dial is a striking blue, the case and bracelet are stainless steel and yellow gold plated and it is absolutely stunning.
Take Personalization to a New Level
Some men aren't as sentimental as women when it comes to personalized gifts. Simply creating a personalized gift may not necessarily sweep him off his feet, so you have to get creative and think outside the box to take personalization to a new level. While a tie is a pretty classic men's accessory gift, Knotty Tie Co. takes the personalization of their selection far beyond the standard. This company can custom-design a tie, bow tie or scarf for anyone on your gift list, including hand-picked colors and a pattern specifically designed for the recipient. You can include his interests, a picture of something or a particular pattern with a custom tag. The leadership team at Knotty Tie Co. says, "Is your guy a dog lover? We'll hand draw or create a custom graphic of his beloved pet. Is he a golfer who also enjoys surfing and spends his days coding? We can incorporate each of those interests into a design that he will cherish." No matter what type of accessory you want to gift your guy, ensure that it is customized to his exact preferences and he will surely love it.
Pay Attention When Shopping
If you're really stuck, consider taking your guy out for a window-shopping adventure. He doesn't have to know your motivation behind the trip, but wandering around a mall or shopping center will help you get an idea of what kinds of accessories he's drawn to and what really catches his eye. You can also point out certain things you have on your short list for him and just see how he responds to them. Pay attention to not only the types of accessories he's drawn to, but also the style of the accessories. Does he look closer at leather watches or metal ones? Does he seem to enjoy simpler ties or more ornate ones? Is he the guy who prefers basic, solid socks or does he get a kick out of the more unique, playful socks? If he's not really a shopper, consider checking out his Facebook likes or Instagram follows. You'll get even more insight into what might be the perfect gift!
Focus on the Occasion
It's easy to get wrapped up in trying to find the perfect gift with the perfect features—the one with the best specs, the nicest materials and the greatest design. Sometimes, the head can get in the way of the heart behind the gift and distract us from the true purpose or purchasing the gift in the first place. Sales Manager at J.R. Dunn Jewelers, Paul Cross, says, "I have always endeavored to talk to the heart and not the mind when presenting options for purchases. Sometimes we pursue a technical approach when what we actually fulfill in our industry is the sale of dreams and aspirations." He suggests that rather than focusing on the obstacle of finding the perfect gift, you focus on the occasion that the gift represents or celebrates. Don't get too caught up in the details and consider the response of that special guy when he receives the perfect gift from you.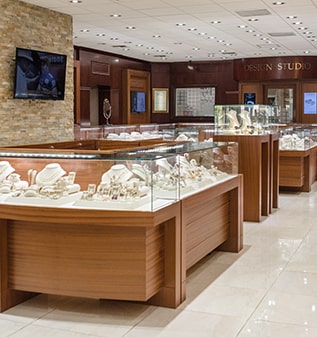 Visit us in real life.
4210 N. Federal Hwy.
Lighthouse Point, FL
33064
Visit us
Store location
Mon-Sat: —
Sunday:

Closed
4210 N. Federal Hwy.
Lighthouse Point, FL
33064