How to Pick a Band to Go with Your Diamond Engagement Ring
By

Jenna Fish
·
June 13, 2018
You're engaged! Congratulations! Now that the initial shock and excitement of being newly engaged is wearing off, you're moving on to the fun and chaos of wedding planning. Between picking a venue, finding the perfect dress, and selecting your wedding party, picking a wedding band can often get pushed to the bottom of the to-do list. You may be overwhelmed at the thought of selecting the ring that will forever represent your love for your spouse, but you shouldn't put it off or stress too much about it. The following tips from the jewelry experts at J.R. Dunn will give you some insight on how to pick the perfect wedding band to go with your gorgeous new engagement ring.
Check the Engagement Ring Designer's Options
Most diamond engagement ring designers have several wedding band options to choose from. It's very likely that your engagement ring has a corresponding band that was made to match perfectly with it. Tacori is a well-known bridal jewelry brand that is known for stunning artistic elements on their engagement rings and incredibly sophisticated wedding bands. The Tacori Dantela collection has several gorgeous diamond engagement rings that pair beautifully with any of the bands in the same collection. Verragio is another brand that has several stunning bands that work perfectly with almost any diamond engagement ring in their collection. Verragio wedding bands are just as unique and elegant as their engagement rings, and the brand has men and women's wedding bands that coordinate for even more seamless style for the couple. Each Verragio collection has unique elements in both the engagement rings and wedding bands, making for exclusive and recognizable looks that are sure to make any couple even more excited about their wedding day.
If the designer of your engagement ring doesn't have coordinating wedding bands or if you don't like the corresponding ring, consider looking at other rings in that designer's collection to find something that will go well with your engagement ring. If that doesn't work, consider looking at some designers who have versatile wedding bands that might pair well with your engagement ring. Henri Daussi or Gabriel & Co. offer great alternatives among others.
Pair Bands According to Your Engagement Ring Style
Certain styles pair better together than others. If you're unsure of where to start, begin by thinking about what style band you would like, then check to see if the style of band you'd prefer goes well with your engagement ring. If they don't go together or you're not sure where to start, visit J.R. Dunn Jewelers in store or give us a call so we can help you explore other options. You can also ask yourself some the following questions:
Does it have a single stone, three stones or is it a diamond-lined band?
Single-stone engagement rings go well with almost any type of band. A three-stone engagement ring is easily paired with a band lined with a diamond of the same shape. Engagement rings with diamond-lined bands are often paired with wedding bands that have diamonds lining it in the same way. Mix it up a little bit since you don't have to stick with the same type of wedding band. For example, if you have a simple solitaire ring with a plain band, you might select a diamond-lined wedding band to add a little more bling to the look.
This gorgeous A. Jaffe three-stone diamond engagement ring has a quilted setting with diamonds lining the band and underneath the three main stones. It pairs beautifully with this A. Jaffe diamond quilted wedding band due to the similarity in how the diamonds are set on the bands. This Tacori petite crescent bloom engagement ring has a round center stone surrounded by smaller diamonds and a pave diamond band. It coordinates perfectly with the Tacori petite crescent pave wedding band.
Does it have gemstones other than diamonds?
A non-traditional or non-diamond engagement ring opens many possibilities for wedding bands. Some wedding bands may have corresponding gemstones that match the engagement ring. Since the non-traditional engagement ring is already such a unique statement piece, it's always a great idea to stay simpler and more traditional with your wedding band. Pairing any one of Tacori's wedding bands with this Tacori diamond & sapphire engagement ring is always a great choice.
Does the center stone have a diamond halo?
Since halo engagement rings tend to make the center stone area larger, they pair well with curved wedding bands. This Gabriel & Co. engagement ring is a stunning vintage ring with a cushion halo, making it unique and incredibly gorgeous. Gabriel and Co. has this curved wedding band that coordinates perfectly with the style, design and shape of the ring. While a curved wedding band is a nice option, you can always stick with a straight, more traditional band, too.
Consider Bridal Stacks
Traditionally, brides get one wedding band that matches their engagement ring, and they wear both together on a daily basis. Now there is a new trend in bridal jewelry called bridal stacks where brides get two or three (or more!) wedding bands that they stack next to their engagement ring. They can interchange the wedding bands to create different stacks, and each wedding band may have different diamond embellishments or different metals.
Bridal stacks are a fun way to create a unique and modern look and to express your individuality. You may want the same wedding band in different metal options, such as yellow, white and rose gold. Or you may choose to have completely different bands in the same metal as your engagement ring. Or you can get even more playful and creative and get varying wedding bands by different designers in multiple metals.
When in Doubt, Go Custom.
If you just can't find that special ring or nothing seems to lay right with your engagement ring, you can always go for something truly unique and have a piece custom designed. Our in-house, award-winning jewelry designer, Robert Pelliccia, and his team have designed many custom rings and will guide you through the process from start to finish. Creating your wedding band custom allows you to really ensure the rings lay perfectly together on your finger. You can also add small personal touches in the design process to make your ring your own, the perfect way to seal your marriage and committment to eachother.
When you're ready to explore wedding band options or if you want some advice on which style wedding back to choose, get in touch with J.R. Dunn Jewelers. Visit us in person at our Lighthouse Point store or give us a call at 954-782-5000.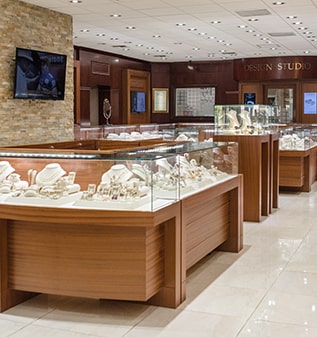 Visit us in real life.
4210 N. Federal Hwy.
Lighthouse Point, FL
33064
Visit us
Store location
Mon-Sat: —
Sunday:

Closed
4210 N. Federal Hwy.
Lighthouse Point, FL
33064
Save up to 15% on your first order.
Receive email updates on stuff you'll probably want to know about, including products, launches, and events. Unsubscribe anytime. Some exclusions apply…