Initial Necklaces: The Perfect Gift
By

Jenna Fish
·
May 11, 2018
The beginning of the summer tends to bring a myriad of parties, showers and special events that call for the perfect gift. Whether you're shopping for graduation, a wedding, a baby shower, Mother's Day or another occasion, initial necklaces are the perfect gift. They are wonderfully personal, incredibly classy and timeless as can be. Whether you want white gold, yellow gold or diamond-embellished, J.R. Dunn has a variety of initial necklaces for you to choose from, so you can present the perfect gift for that special event this summer. Additionally, our initial necklaces come in a variety of styles, from casual and modest to more ornate and elegant. Regardless of the reason for purchase or the style of the initial necklace, it is sure to delight the recipient and become a cherished piece of their jewelry collection. When you're shopping for the perfect gift, consider one of our many necklaces from J.R. Dunn.
Roberto Coin Cursive Initial Necklace
These Roberto Coin Cursive Initial Necklaces are made of 18k white gold and come with an adjustable chain that can be worn at either 16" or 18" lengths. From the Tiny Treasures collection, these Roberto Coin initial necklaces are adorned with stunning diamonds, making them sparkle beautifully. The elegant lettering on these Roberto Coin initial necklaces makes them unique and sophisticated, making them ideal for just about any woman.
This particular Roberto Coin initial necklace would be a great gift for graduation, whether from high school, college or graduate school. This look pairs well with business casual attire and can add a touch of class to any ensemble. Another option would be to give this Roberto Coin initial necklace to a newlywed. A new bride would love to sport the initial of her new last name with this beautifully designed Roberto Coin initial necklace as a symbol to tell the world of her love for her new husband.
Roberto Coin Diamond Initial Necklace
This Roberto Coin Diamond Initial Necklace comes in a simpler font the other Roberto Coin initial necklace featured above. It's also from the Tiny Treasures collection and is part of the Initial Thoughts line. The initial comes in a gorgeous 18k white or yellow gold and hangs on a 16" chain. This Roberto Coin initial necklace features sparkling diamonds, making the entire piece striking and sophisticated.
As one of the most popular Roberto Coin initial necklaces, this piece is a common option for a unique and beautiful anniversary gift. It's a great way to show a significant other that she is cherished and loved, and that she deserves something truly beautiful to wear each day. A Roberto Coin initial necklace like this one could also be a great gift for when something special happens in someone's life, such as a job promotion or a new job. Any recipient of this stylish Roberto Coin initial necklace is sure to love it and wear it with pride.
Lana Diamond Initial Necklace
For the modern woman who loves a little bling—Lana's initial necklace is the perfect accessory. Crafted in 14k yellow gold, the iconic Lana necklace chain gets personal with a dangling initial accented with diamonds along one side of the letter—a glam update on a classic piece. Wear it alone or layer it with other Lana necklaces for the perfect on-trend look wearable day to night. It's the perfect gift for any woman who has some extra sparkle to her.
Zoë Chicco Initial Necklace
This dainty initial necklace from designer Zoë Chicco is available in 14k yellow gold, white gold or rose gold. The initial is only one-fourth of an inch and features a bezel-set one-point diamond to the side of the letter. This Zoë Chicco Initial Necklace has a 16" chain and is a cute piece of jewelry that can be stacked and worn with other necklaces or by itself.
The exquisite initial necklace by is a great gift idea for Mother's Day. It can be given to Mom with her initial on it, or multiple necklaces can be gifted with an initial for each child. Since several necklaces can be worn at a time, beautifully layered on Mom's neck, she's sure to love this personal and thoughtful gift. This Zoë Chicco initial necklace would also be a fantastic gift for a young girl who has just had a significant event in her life. A first communion, sweet 16 birthday or quinceañera are all momentous occasions in a young lady's life, and each should be marked by a special token for her to remember the special day.
My Story Round Initial Necklace
This initial necklace consists of a round pendant engraved with an initial hanging below a diamond and gemstone of your choice. The My Story Round Initial Necklace is available in 14k white gold, 14kt yellow gold or 14k rose gold. The gemstone customization includes options for all twelve birthstones, making this initial necklace even more personal and special.
This My Story initial necklace is a perfect gift idea for a new mom, whose new bundle of joy could be the inspiration behind the initial and birthstone. It would also serve as a unique gift for a high school graduate as a token of her hard work in high school and her step into adulthood, furthering herself as an individual. This initial necklace is also a great birthday gift, particularly for a milestone birthday, as it celebrates the birth month of the recipient and complements her beauty inside and out.
EF Collection Initial and Diamond Bezel Choker
For a layered look all-in-one, this necklace by EF Collection combines a small bezel set diamond in a choker style with a second strand featuring a diamond initial laying lower on the chest, crafted in 14k rose, yellow, and white gold. This delicate necklace is the perfect gift for any milestone and is sure to be a staple in her wardrobe. It would also make the perfect necklace for anyone born in April or whose baby is born in April, with diamond being their birthstone. Combine it with their initial for the perfect personalized look.
Need help choosing?
If you are thinking about getting one of these gorgeous initial necklaces for someone special in your life, we are here to help. No matter who you're buying it for or what special occasion it is commemorating, we want to assist you in picking out the perfect one. If you want a Roberto Coin initial necklace, a Zoë Chicco initial necklace or one from another designer, we are happy to talk you through the different features of the various options and lend our expert opinion. You can come visit our store in person or you can contact us now to assist with your online purchase.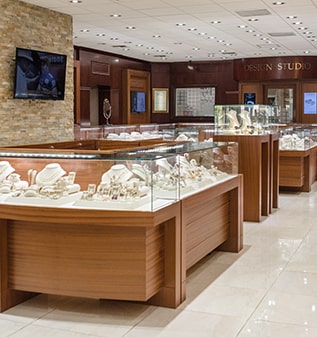 Visit us in real life.
4210 N. Federal Hwy.
Lighthouse Point, FL
33064
Visit us
Store location
Mon-Sat: —
Sunday:

Closed
4210 N. Federal Hwy.
Lighthouse Point, FL
33064