Jewelry Designer Finds First-Time Judging Duty a Revelation
By

Nina Glaser
·
March 10, 2016
When J.R. Dunn Jewelers' award-winning, in-house designer, Robert Pelliccia, was asked to judge the Lila Lewenthal Jewelry Award competition at the Boca Raton Museum of Art-The Art School, he had no idea what an impact the experience would have on him. It raised his awareness of how difficult the process is and gave him a new appreciation for judges.
"I have entered many contests, but this is the first time I acted as a judge," said Pelliccia. "Every piece is different, so judging them against one another was much more difficult than I thought. You need to evaluate each piece by individual beauty, wearability, creativity, along with form and function. The decision-making process would have been easier had all the pieces been the same; then only craftsmanship would have come into play!"
Pelliccia recently pronounced Mary Drago the winner of a $500 dollar tuition scholarship for her sterling silver cuff bracelet, "Corset" at the art school. The winning piece will be on display at the art school for three weeks, and Drago's name will be inscribed on a plaque that graces one of its walls.
Loret Gomez and Marta Cruz-Janzen were the second- and third-place winners, respectively. Gomez's sterling silver "Streaming Bubble" bracelet and Cruz-Janzen's bronze clay metal necklace, "Forest," were recognized.
While at the school, Pelliccia toured the student workshop areas and spent some time with jewelry instructor Don Dietz. "His passion for teaching others was inspiring," said Pelliccia. The instructor in the gem and jewelry arts for more than 40 years clearly loves what he does.
"The students are a joy to instruct," said Dietz. "They are eager, dedicated and willing to pursue new ideas. I am personally humbled by their creativeness."
Pelliccia was also happy to see the students' excitement about their creations and design process, as well as their appreciation for his participation.
"It's nice to see people love to express themselves through art," he said.
Drago agrees, wholeheartedly, sharing how she is continually inspired by teachers and excited by learning in the name of self-expression.
"I enjoy taking raw materials and creating something unique," she said. "I gain great satisfaction working in metal."
Robert Pelliccia started his jewelry career, which has spanned more than 30 years, at the age of 18. He took courses in jewelry repair, diamond setting and model-making, and worked as a bench jeweler prior to beginning to design. He is a nationally recognized jewelry designer, honored with a host of awards over the years, including three prestigious De Beers Diamond Today Awards, a Modern Jeweler magazine Buyers Choice Award and 12 American Gem Trade Association (AGTA) Spectrum Awards. The Pelliccia portfolio includes bridal, colored gemstone and fashion pieces, much of which is crafted in karat gold and platinum.
Check out Robert Pelliccia's Instagram page to see some of his Beautiful Creations.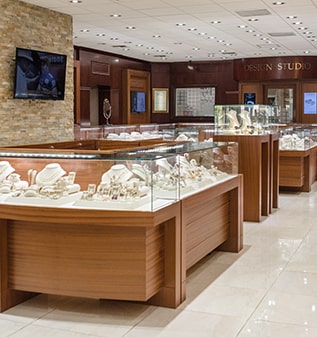 Visit us in real life.
4210 N. Federal Hwy.
Lighthouse Point, FL
33064
Visit us
Store location
Mon-Sat: —
Sunday:

Closed
4210 N. Federal Hwy.
Lighthouse Point, FL
33064
Save up to 15% on your first order.
Receive email updates on stuff you'll probably want to know about, including products, launches, and events. Unsubscribe anytime. Some exclusions apply…