John Hardy Balinese Compound Featured in Architectural Digest
By

Nina Glaser
·
November 2, 2016
When your business is housed amid an eco-friendly basis, as the jewelry design company John Hardy is, it comes as no surprise when the headquarters gets featured on the pages of Architectural Digest magazine!

Imagine working in a studio that is open to nature, hearing birds singing and water flowing, watching butterflies soar and seeing lush, green landscaping. This soothing, inspiring atmosphere is what delights designers, artisans and visitors to the John Hardy workshop and boutique. The view today is much as it was in the 1970s when John Hardy himself visited Bali and was so enchanted by its sublime beauty that he founded an authentic collective with local artists.

John HardyThe brand, dedicated to ecological responsibility, built the property's structures with wood reclaimed from existing wantilans (Balinese for a traditional town hall), supplemented with low-impact materials like adobe, thatch and bamboo. According to the John Hardy web site, the workshop can be returned to the rice paddies that surround it within three months.


The open-air workshop and design center is joined on 400 lush acres with an organic garden and farm. John Hardy employees and visitors gather for a sustainable lunch for 700 people made with the vegetables and rice sourced from the campus.

The passion for and commitment to community, artisanship and sustainability are evident inside the buildings as well, where every piece of jewelry is conceived, designed and produced by-hand by artists trained in traditional Balinese jewelry-making techniques. The precious metals and gemstones used make a minimal impact on the environment, have been ethically obtained are in compliance with human rights standards. The contemporary styled Bamboo collection has an earthy feel and gives back, with proceeds from the sale of each piece of jewelry helping with environmental restoration efforts through the John Hardy's "Wear Bamboo, Plant Bamboo" program that ensures the sowing of bamboo seedlings. All purchases from this line and others, including Modern Chain, Dot, and Legends collections are made with 100 percent reclaimed silver and gold, and come in tarnish-free packaging made of recycled materials printed with soy ink.

John Hardy is where luxury meets environmentalism. You can make plans to tour the workshop in Bali or, if a plane ticket isn't in your immediate future, call one of our jewelry experts to learn more about John Hardy jewelry.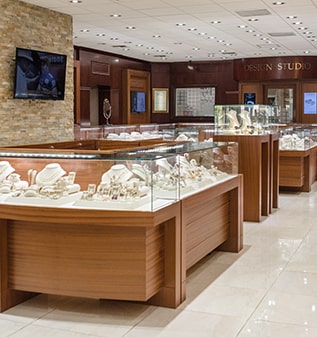 Visit us in real life.
4210 N. Federal Hwy.
Lighthouse Point, FL
33064
Visit us
Store location
Mon-Sat: —
Sunday:

Closed
4210 N. Federal Hwy.
Lighthouse Point, FL
33064
Save up to 15% on your first order.
Receive email updates on stuff you'll probably want to know about, including products, launches, and events. Unsubscribe anytime. Some exclusions apply…