John Hardy Legends Collection
By

Nina Glaser
·
September 9, 2015
Start a new tradition with the John Hardy Legends collection! Pieces include designs that commemorate the Naga, Cobra, Macan and Eagle. Each dramatic ring, bracelet, necklace, or pair of earrings or cufflinks empowers men and women. Designs were inspired by mythical creatures and lore of Bali. The updates have been made across collections and categories. And many of the pieces are set with semi-precious stones.
The powerful, commanding Naga was the first figurative piece for the brand. A well-known and revered Balinese myth relates the dragon's protection of the ocean pearl he loves and watering of the country's fields. Dominant in the design are intricate scales and curves. Bracelets, earrings, necklace and rings have pattern, texture and rhythm. Two pieces for women and three for men make the John Hardy Top 10. A silver and gold dragon bracelet and dragon coil ring in 18kt gold with African ruby eyes and diamond for women. And woven leather dragon bracelet, dragon head ring with ruby and black sapphire, and sterling silver dragon head cufflinks for men.
The Cobra is a powerful creative life force. When a snake sheds its skin, it signifies a rebirth. The latest line of Cobra has experienced a reincarnation. Spirals of stones and precious metal grace necklaces, coil bracelets and rings. Designs twist and wrap. Blue topaz, mixed black gemstones and white sapphires have a starring role. Two-tone silver and gold is another option.
Macan is the Balinese word for tiger. The beast represents courage, strength and passion. A fierce spirit. The motif carries through to rings, bracelets, pendants and earrings. A limited-edition cuff celebrates 40 years of John Hardy history in a single piece. The macan sees the world through blue Paraiba tourmaline eyes. The rare gemstone brings color and luminosity. Etching and ukiran (cut work) tell a story, inside and out.
The Eagle is a symbol of freedom and independence. Like its namesake, John Hardy men's eagle jewelry is majestic and regal. Choose from bracelets in station and braided styles. Cufflinks, rings and pendants. In sterling silver, leather and bronze. With black chalcedony eyes. Mixed gemstones and black sapphires, too.
You'll go wild for the John Hardy Legends collection. It proves that fairy tales can come true. With beauty and comfort. You will call it substantive and statement-making.
As with all John Hardy jewelry, the Legends collection is made one-at-a-time, by hand, in seven steps:
Sketch
Wax Carving
Master Casting
Molding Wax
Wax Tree
Silver Tree
Finishing
As a company, John Hardy is not like any other. The brand is all about long-term luxury. Only 100% recycled silver is used in the sterling pieces. Each item is designed and crafted by artisans descended from the kings of Bali. Many hours of labor are involved. It is a labor of love for the team. To them, John Hardy is not merely a company; it is a way of life. Culture, the arts, community and nature all have deep roots. And are given respect. Clients are invited to visit the island compound.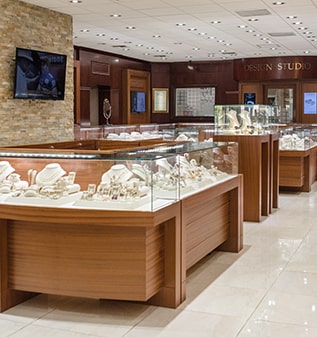 Visit us in real life.
4210 N. Federal Hwy.
Lighthouse Point, FL
33064
Visit us
Store location
Mon-Sat: —
Sunday:

Closed
4210 N. Federal Hwy.
Lighthouse Point, FL
33064