Lana Jewelry Fine Luxury Jewelry For The Modern Woman
By

Nina Glaser
·
January 26, 2016
Lana Jewelry founder Lana Bramlette is passionate about fine jewelry with a fashionable flair. This makes for a perfect fit as a new product line carried by J.R. Dunn Jewelers. This like-thinking encouraged J.R. Dunn to carry the Lana line of stylish and streamlined earrings, necklaces, bracelets and rings. Shoppers local to the J.R. Dunn showroom in Lighthouse Point, FL and Internet users everywhere can see the captivating Lana jewelry collections, in-store and online at JRDunn.com.
The Chicago-based Bramlette, known as "The Queen of Hoops, established her look-attracting line in 2002. More than a dozen years in, yellow gold remains the main protagonist of Lana Jewelry pieces (white and rose gold pieces are also available). Gemstones now grace many pieces, including diamonds, Mother-of-Pearl, opal doublet and turquoise.
A high-polish finish is one of the recognizable trademarks of the brand. Another identifiable essential is a variation on the diagonal faceted chain in the Blake collection. The collections include jewelry at a number of price points, with names that leave a lot the imagination: Electric, Illusion, Mirage, Elite and more!
As the designer herself said," Fine jewelry should be an attainable luxury for the modern woman."
Earrings run the gamut from studs to cuffs, chandeliers to drops, with a variety of bars, discs, hoops and spikes. Signature pendant and charm necklaces are available in yellow, white and rose gold, along with bi-colored white and rose gold, as well as tri-colored gold. Multi-length chains include 16", 18", 20", 30" and 35". Look for bracelets in bangle and chain styles, plus hand and wrist lariats in precious metal. Some Lana rings stack, some make a statement and others do both! Whatever Lana Jewelry you select, you can be sure that it will complement all of your outfits…or no clothing at all.
Describing her jewelry pieces Lana said, "They are simple enough to wear every day and sexy enough to wear with nothing at all."
Lana Jewelry has been featured in the top women's magazines on the shelves and is available at the finest retailers, making it easy for everyone to be a Lana Girl! Sexy and architectural, this is jewelry that is perfect for building a well-rounded collection that is at-once timely and timeless!
Start – or continue – building your collection of Lana Jewelry today at J.R. Dunn Jewelers!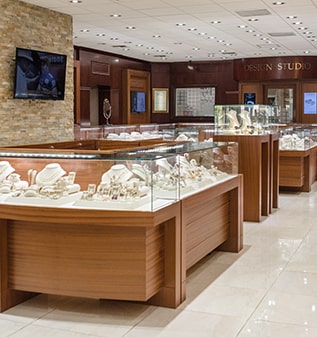 Visit us in real life.
4210 N. Federal Hwy.
Lighthouse Point, FL
33064
Visit us
Store location
Mon-Sat: —
Sunday:

Closed
4210 N. Federal Hwy.
Lighthouse Point, FL
33064