Make Mother's Day Memorable with Mikimoto
By

Jenna Fish
·
May 2, 2018
In July of 1893, the first cultured pearl was successfully produced. The man credited with this creation, Kokichi Mikimoto, went on to patent his thoroughly researched techniques for pearl cultivation, and in 1899, he opened his first pearl boutique in Tokyo. Soon after, he opened stores in London, Paris and several other major cities.
Today, Kokichi Mikimoto's artistic and scientific discoveries live on. The Mikimoto name is closely associated with innovative jewelry design, superb craftsmanship, superior quality, unparalleled passion and stunning, timeless elegance. The current Mikimoto line includes gorgeous pearl earrings, bracelets, rings and necklaces, and here at J.R. Dunn, we are honored to be an authorized retailer of the Mikimoto brand.
Mother's Day is quickly approaching, and we don't want mom's gift to get forgotten or lost in the shuffle! On May 13th, be sure to give mom something special that shows her how much you care. You can make this Mother's Day especially memorable by getting her a gorgeous Mikimoto piece to thank her for everything she's done for you over the years.
For the Mom Who Loves Ring Bling
Many moms love to express themselves with their jewelry, particularly by varying their rings and wearing new and unique pieces. Mikimoto rings are unique and stunning, and they are designed with a variety of styles in mind. From classic and simple to extraordinarily distinctive, Mikimoto's pearl rings are a perfect fit for any mom. Mikimoto rings all contain pearls, but some are adorned with the timeless Akoya pearl, while others feature a white, gold or black South Sea pearl.
The Golden South Sea Pearl and Diamond Ring is a spectacular piece of jewelry. It is adorned with a rare golden South Sea pearl, which is only highlighted by the 18k yellow gold and diamond-embellished curve that wraps around the pearl.
The perfect combination of design and quality is displayed flawlessly in the Black South Sea Pearl and Diamond Ring. It features a stunning 10mm black South Sea pearl set in a split shank band that is lined with diamond accents.
This South Sea Pearl & Diamond Bypass Ring is a unique piece that embodies traditional yet modern beauty. The 18k rose gold band features a gorgeous white South Sea pearl as well as a stunning flower with pave diamond petals. It is sure to look incredible on your mother's hand.
For the Mom Who Loves a Classic Look
Pearl earrings are as timeless and classic as roses on Mother's Day. So what better gift to pair with those roses than a pair of gorgeous Mikimoto pearl earrings? Whether your mom is a lover of ornate drop earrings or prefers the more classic look of pearl studs, we have something perfect for her.
These Akoya Pearl White Gold Stud Earrings are simple, sophisticated and stylish. While the most common size is the 7-7.5mm studs, we also have them available in a variety of other sizes. Select stud earrings from 3mm up to 11mm. Additionally, these classic pieces are available in both white gold and yellow gold.
These Black South Sea Pearl White Gold & Diamond Earrings are elegant enough for a fancy evening out, yet also simple enough for a casual brunch with friends. The iridescent Black South Sea Pearl is fastened to the end of a white gold and diamond lined accent, making these immaculate earrings perfect for any mom.
These Akoya Pearl White Gold Diamond Earrings feature an 18k white gold, diamond-embellished hoop. The bottom of the hoop holds a beautiful Akoya pearl, which truly completes the elegant look. These earrings are timeless and classic, with a touch of modernity, making them a great gift for moms of all ages.
For the Mom Who Can Never Have Too Many Necklaces
There is nothing quite like a Mikimoto pearl necklace. These pearl necklaces are sought-after all across the world, and for good reason. Whether your mom prefers a classic strand of pearls or a pendant necklace featuring a unique Mikimoto pearl, she is sure to love adding a necklace to her collection. The Mikimoto collection has a wide variety of necklace styles as well as lengths and pearl sizes. No matter what style your mom prefers, it is sure to pair well with one of the necklaces made with spectacular Mikimoto pearls.
Similar to a classic strand of pearls, this Akoya Pearl Tincup Necklace includes eleven 5.5mm pearls placed on a dainty 18k white or yellow gold chain. This is a modern take on a classic and makes the perfect gift for any mom who is both sophisticated and fashion-forward.
For a unique play on a classic pearl pendant necklace, consider gifting mom this Black Tahitian Pearl and Diamond White Gold Necklace. The white gold chain can be adjusted between 16 and 18" and it is embellished with three descending diamonds with a rare and lustrous 10mm lack South Sea pearl.
Made with stunning Mikimoto pearls, the Graduated Akoya Pearl Necklace is a best seller for so many reasons. Its stunning simplicity, its elegance and timelessness and its appeal to just about every woman are just a few.
Mother's Day Is Just Around the Corner!
Mother's Day is quickly approaching, so don't wait too long to purchase the perfect gift for mom! Gorgeous Mikimoto pearls are sure to sweep her off her feet and show her how appreciative you are of her. Come visit J.R. Dunn in person or place your order online today to be sure your Mikimoto pearl jewelry is ready for mom this May 13th!

Authorized Retailer

SHOP OUR SELECTION NOW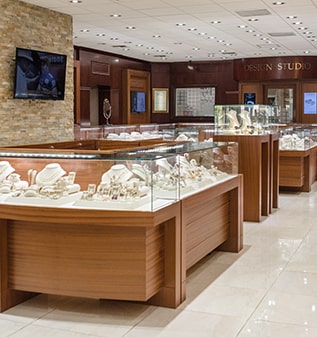 Visit us in real life.
4210 N. Federal Hwy.
Lighthouse Point, FL
33064
Visit us
Store location
Mon-Sat: —
Sunday:

Closed
4210 N. Federal Hwy.
Lighthouse Point, FL
33064