Marco Bicego Delivers the "Aah Treatment" to J.R. Dunn
By

Nina Glaser
·
October 25, 2016
There was Italian music in the air, Italian-themed light bites and imported beverages served when J.R. Dunn Jewelers had a two-day Marco Bicego Trunk Show on October 22-23, 2016 that included a three-hour personal appearance by the designer on Saturday afternoon.

Nearly 120 Bicego aficionados, from the general public to local blogger Rachelle Porsenna and magazine representatives from The Light, and Lifestyle Media Group came to see the latest Masai and Lunaria collections, along with one-of-a-kind and limited-edition pieces, with many having their already-owned and newly-purchased jewelry personally engraved. The air was vibrating with excitement, as participants met the designer and posed for photographs.

"It was an absolute delight to have Marco in our showroom all the way from Italy," said J.R. Dunn Jewelers Co-Owner Ann Marie Dunn. "He is as warm and wonderful as the designs he creates!"

One J.R. Dunn client, Gayle S., traveled many miles to meet Marco, wearing a necklace she purchased at Marco Bicego in Italy. The two spoke to each other in Italian, and she added a new 18K yellow gold and black Mother-of-Pearl piece from the Lunaria collection to her jewelry box. As the designer said:

"All of my collections are designed to be worn together; they have my signature look of hand engraved gold, which is lovely to the eye and the touch."

The combination of Old World tradition and contemporary design seen in Marco Bicego jewelry showcases the designer's passions for family and fashion. The business was handed down to Marco by his father. Every ring, bracelet, necklace and pair of earrings are conceived and produced at the brand's headquarters in Italy.

The items that comprise the jewelry house of Marco Bicego are always welcome in-the-house of J.R. Dunn Jewelers!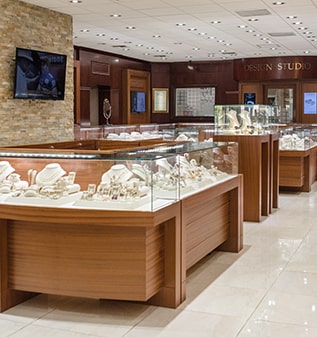 Visit us in real life.
4210 N. Federal Hwy.
Lighthouse Point, FL
33064
Visit us
Store location
Mon-Sat: —
Sunday:

Closed
4210 N. Federal Hwy.
Lighthouse Point, FL
33064
Save up to 15% on your first order.
Receive email updates on stuff you'll probably want to know about, including products, launches, and events. Unsubscribe anytime. Some exclusions apply…