Marco Bicego Diamond Lunaria Collection Dazzles
By

Dan Gerrell
·
April 7, 2016
How do you take a special collection like Lunaria and make it even more so? If you're Marco Bicego, you add dazzling diamond gemstones and elements of 18kt white gold!
As with so many of his collections, nature was Bicego's muse in the design of the Lunaria collection. Pieces honor the Lunaria flower, noted for its petals that are hand-embossed and hand-etched with a satin finish. Bulino, an ancient Italian goldsmith technique, leaves countless lines on the surface of the jewelry.
In Diamond Lunaria, the delicate, elegant pieces of jewelry are as expressive as ever, with their irregularly shaped silhouettes now encrusted with luxurious pave diamonds that have been hand-set by expert craftsmen.
The proof is in the products! Check out a pair of small 18kt gold and diamond drop earrings. A luminous free-form plate framed by polished white gold is embellished with diamonds. It descends to a larger brushed yellow gold leaf. You can almost hear the piece rustle in the wind and feel the cool breeze. The petal kissing bangle delivers equal parts satin and sparkle. The open-ended bracelet features two tones of 18kt leaves that are oh-so-close to touching. One is flat brushed 18kt brushed gold, while the other is crafted in 18kt white gold and adorned with white diamonds.
There's no better time than spring to get your first Diamond Lunaria or add to your collection! It is, after all, when flowers bloom!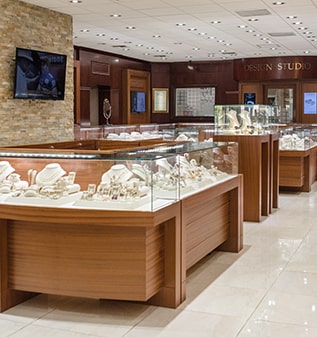 Visit us in real life.
4210 N. Federal Hwy.
Lighthouse Point, FL
33064
Visit us
Store location
Mon-Sat: —
Sunday:

Closed
4210 N. Federal Hwy.
Lighthouse Point, FL
33064