Marco Bicego Jewelry: Where Nature & Art Merge
By

Nina Glaser
·
March 19, 2015
Jewelry designer Marco Bicego loves nature in all its irregular shapes and colors, and the old-world, hand-made industry traditions of his Venetian origins. "Made in Italy" means something to him; it is at his core…as a man and an artist. This is only natural, it seems, as he grew up in Vicenza, "the gold capital of the world," near Venice, home to some of Italy's richest historical, artistic, cultural, musical and cultural heritage.
A second-generation master craftsman, he is a man of caring, imagination, energy, enthusiasm and passion; these characteristics that are thoroughly evident in and exuded through all his jewelry designs. Marco Bicego's work has a distinctive quality, due in part to the signature engraving, hand-twisted style and delicate hues of his collections. The result is jewelry that has a timeless elegance…and large following throughout the world. You'll find an artisanal quality that is the hallmark of the brand in each and every piece.
Marco Bicego captures the spirit of Italian design in a singularly exceptional way. All of the fashion-forward jewelry by this visionary designer is renowned for two elements: hand-woven coil strands and a handcrafted satin finish that leaves hundreds of tiny lines on the surface. Simple yet splendid, Marco Bicego jewelry is an everyday luxury that can be worn day and night. The pieces make a statement…as does the designer. He has set – and reached – a high standard of quality and precision, with a unique style and aesthetic; his motifs can most accurately be defined as urban-ethnic.
The popular designs of Marco Bicego's jewelry are universally identifiable. The pieces are versatile, personal and seductive. The designer seems to find new, modern interpretations for 18kt gold with the debut of each collection.
The collections – all of which are ingenious and creative – express the sensations Marco Bicego feels and is compelled to design from, including:
Africa – Inspired by tribal jewelry and the soft hues of the Sahara Desert, the Africa collection features an extravagant expression of hand-engraved and hand-textured golden boules (from the French word for "ball" or "globe") of different sizes and finishes. Choose from a selection of light and spherical necklaces, bracelets, earrings and rings.
Confetti – Gold meets organic minimalism in this collection that celebrates the allure of nature's variations. Feather-light, colorful "pebbles" combine with artfully crafted 18kt gold for perfectly imperfect pieces sure to delight the most discerning consumers.
Delicati – the Italian word for "delicate," the tantalizing Delicati collection showcases dainty, small wonders from around the world. The hand-crafted 18kt yellow gold refined and graceful creations are a tribute to the joy of traveling, inspired by a variety of places; note the African, Arabian, Indian and Italian influences reflected in the mini necklaces and bracelets that have been derived from the brand's most iconic collections. Delicati incorporates the time-honored Bulino hand-etched texturing technique along with an array of beautifully faceted stones from diamonds to amethyst, tourmaline, citrine and aquamarine.

Goa – White diamonds seem to swirl in graceful shapes within each flattened coil in this collection, thanks to the "Corda di Chitarra" technique, a manipulation of gold exclusive to Marco Bicego. The textured bands of gold – in both warm and cool shades – are manually twisted, creating a tactile finish that is virtually unalterable.
Il Cairo– A gold fil rouge – French for "common thread" -- between past and present is formed within these beautiful classic contemporary pieces. The designer's love for organic shapes shines through in the collection.
Jaipur – This collection is meticulously detailed. Hand-selected colors reminiscent of a tropical Indian sunset showcase the exclusively cut stones embraced by a gold frame and celebrate the Jaipur region's rich traditions of stone carving. Hand-engraving and texturing the gold give it even more depth and dimension.
Jaipur Link – The warm shades of 18kt yellow gold necklaces, earrings, pendants, rings and bracelets are easy to wear. Irregularly shaped links are finished with the artisan Bulino technique for a silken effect. The circular beauty of the pieces are never-ending.
Lunaria – In Latin, the word means "moonlike," and refers to decorative seedpods. Marco Bicego's collection of the same name features hand-engraved 18kt yellow gold plates framed by polished gold that has been molded to resemble flower petals blowing in the wind. The look of brushed gold is achieved through the time-honored Bulino technique that had-etches satin texture onto precious metal. The collection is elegant and refined.
Marakkesh– Carefully hammered and manually twisted 18kt coils intertwine to form interlaced engraved links, creating a modern, golden cascading sculpture of timeless elegance and contemporary flavor. Some of the pieces are further enhanced by the adornment of brilliant white diamonds.
Murano – Inspired by a series of islands linked by bridges in the Venetian Lagoon in northern Italy where glass has been made for 700 years, this collection was inspired by the architecture and vibrant colors reflected on the Venetian sea. Bulino, irregular shapes and geometric patterns are showcased in the atmospheric pieces.
Paradise –A graceful assortment of 18kt yellow gold chains, tiny hand-engraved beads and colorful gems – shimmering pink and white quartz complementing an infinitely delicate range of aqua blue and green stones -- join together to form the perfect balance of precious details and delicacy.
Siviglia – A sophisticated and elegant collection comprised of chains connected to irregularly shaped 18 kt gold beans, some of which are encrusted with shimmering, previous pave diamonds.
While Marco Bicego is based in Trissino, Italy, stores are located in London, Verona, Italy; Budapest, Hungary; Mykonos and Rethymno in Greece; and Tokyo, Japan. His line is found in more than 1,000 fine jewelry stores around the world – including J.R. Dunn (JRD) in Lighthouse Point – where you can find your piece of everyday luxury.
JR Dunn is pleased to include Marco Bicego necklaces, bracelets, earrings and rings from the Africa, Confetti, Delicati, Goa, Il Cairo, Jaipur, Jaipur Link, Lunaria, Marakkesh, Murano, Paradise and Siviglia collections in its inventory. You can also view the collections HERE.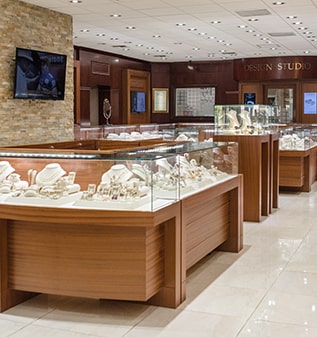 Visit us in real life.
4210 N. Federal Hwy.
Lighthouse Point, FL
33064
Visit us
Store location
Mon-Sat: —
Sunday:

Closed
4210 N. Federal Hwy.
Lighthouse Point, FL
33064
Save up to 15% on your first order.
Receive email updates on stuff you'll probably want to know about, including products, launches, and events. Unsubscribe anytime. Some exclusions apply…