Meet Italian Jewelry Designer Marco Bicego at JR Dunn
By

Nina Glaser
·
October 10, 2016
If you're looking for ideas about how to spend part of your weekend on October 22-23, 2016, consider a trip to meet Italian jewelry designer Marco Bicego and see his latest collections during a two-day
Marco Bicego Trunk Show
at
J.R. Dunn Jewelers at 4210 N. Federal Highway in Lighthouse Point, FL.
The showroom will be open from 10:00 a.m. to 6:00 p.m. on Saturday, with Marco's personal appearance from Noon to 3:00 p.m., where you can meet the designer, pose for a photograph and have a new or existing piece of Marco Bicego jewelry engraved by the designer. On Sunday, the show continues from Noon to 5:00 p.m. Enjoy complimentary Italian-style hors d'oeuvres and cocktails while you're there!
The Marco Bicego Personal Appearance and Trunk show might be the next-best-thing to buying a plane ticket to Italy, where the jewelry is hand-crafted! You can marvel at the combination of Old world tradition and contemporary design in the pieces that blend Italian culture and creativity. As the designer said, "The inspiration behind the creation of my jewels is rooted in my Venetian origins and the natural settings surrounding my territory."
Three things set Marco Bicego jewelry apart: multicolor gemstones, hand-twisted coil and hand-engraved 18kt gold. Colorful gemstones are used in unique combinations, making each piece of jewelry unique, as seen in the Jaipur, Murano and Paradise collections. Fluid, sensuous strands of woven gold are achieved through a signature technique passed from one generation to the next, marking the Cairo, Goa and Marrakech lines. A bulino tool gives gold a lustrous texture as it brushes the finish on earrings, necklaces, bracelets and rings of Africa, Delicati, Jaipur Link, Lunaria, Murano and Siviglia. It's easy to love Marco Bicego jewelry; what's difficult is narrowing down the collection that you like best! In addition to those noted above, be sure to check out Masai, Luce, Jaipur-Color and Unico.
You are invited to share in the excitement and event that has the neighborhood buzzing. "I am absolutely thrilled and honored to have Marco come to our showroom all the way from Italy," said J.R. Dunn Jewelers Co-Owner Ann Marie Dunn. "I know it will be a memorable experience for our clients to meet such a talented designer in-person, and a great opportunity for them to view all of his latest creations."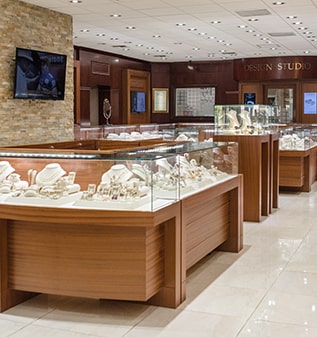 Visit us in real life.
4210 N. Federal Hwy.
Lighthouse Point, FL
33064
Visit us
Store location
Mon-Sat: —
Sunday:

Closed
4210 N. Federal Hwy.
Lighthouse Point, FL
33064