Men's Jewelry is Making its Mark
By

Nina Glaser
·
November 19, 2014
Real men do wear jewelry! It's here. There's nothing to fear. It's part of a guy's gear. Get used to it!
Men's jewelry has a vast and rather remarkable history. Masculine ornamentation dates back to ancient cultures around the world as a symbol of wealth, influence and power. It has also been associated with properties to heal, protect and ward off evil spirits. The earliest examples were created from shells in Africa. This was followed by jewelry made from stone, teeth and bone in Europe. The ancient Egyptians were the first to craft fine jewelry out of gold, paving the way for creativity throughout the world. The tradition of American gold jewelry began with the Aztecs and Mayans. Western men started wearing jewelry regularly in the form of wedding rings and luxury watches during the 1940s and 1950s while men's necklaces, bracelets, rings and earrings gained in popularity from the 1960s to the 1990s. Today, men's jewelry is almost as varied in scope as a women's!
There are varying levels of comfort about and acceptance of men's jewelry among the general population. Some feel that men's jewelry should have a use or function while others are content to be decoratively adorned. One of the things that everyone can pretty much agree on, though, is that men's jewelry is easier to wear when it has meaning, such as a wedding band, class ring, military service pin or heirloom pieces. Whatever the individual feelings, there are great pieces available for every personality and lifestyle.
Men's jewelry is for the confident and also serves as a confidence-booster. Men are embracing the craftsmanship that goes into the design and production of luxury jewelry. The wearing of jewelry among men is becoming part of their regular routine, as they pay more attention to their appearance. In a world where differentiation is key, jewelry can give men a competitive edge! Depending on the piece(s) chosen, men's jewelry can actually serve to define one's masculinity.
That being said, it's important to know…
When and How to Wear It
Don't over-do it! Keep it simple; less is more.
For business environments, consider a silver ID bracelet, classic timepiece, tie clasp, lapel pin, or signet ring.
Cufflinks should be reserved for business events, weddings and other special occasions.
Don't wear a chain bracelet on the same wrist as your watch.
Your timepiece should be fashionable and functional.
Match metals. Gold is warm while silver is neutral.
Designers are quietly and steadily finding their place in the market as the industry evolves and merchandise takes on new shapes and forms. Men's jewelry carried by J.R. Dunn Jewelers includes cufflinks, rings, bracelets, necklaces, pendants and chains from designers like Chopard, Gucci, John Hardy, Roberto Coin, Scott Kay and Stephen Webster.
The outlook for the men's jewelry industry is bright (and shiny!).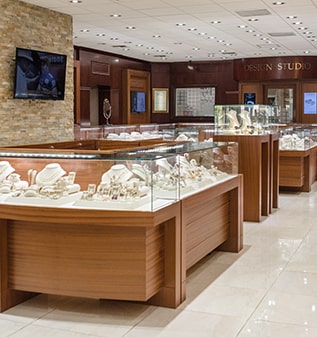 Visit us in real life.
4210 N. Federal Hwy.
Lighthouse Point, FL
33064
Visit us
Store location
Mon-Sat: —
Sunday:

Closed
4210 N. Federal Hwy.
Lighthouse Point, FL
33064
Save up to 15% on your first order.
Receive email updates on stuff you'll probably want to know about, including products, launches, and events. Unsubscribe anytime. Some exclusions apply…