Discover the Mikimoto America 1927 Limited Edition Akoya Pearl Strand
By

Nina Glaser
·
June 1, 2015
Mikimoto, the designer name synonymous with pearls, has been producing show-stopping cultured pearls for more than 120 years, and this year is no different! The company unveiled the latest in timeless elegance and sophisticated design at the Las Vegas Jewelry Show with its America 1927 Akoya Cultured Pearl l Special Edition strand of 8.8mm x8mm gems measuring 27" in length, presented in a keepsake box.
The limited-edition strand was named for the year Kokichi Mikimoto arrived in America with his dream to "adorn the necks of all women around the world with pearls." It was also the year that he met with his idol, the American inventor Thomas Edison, who is said to have admiringly remarked, "There are two things which couldn't be made in my laboratory – diamonds and pearls."
Only the best pearls in the world are used to create a Mikimoto masterpiece, and all of the designer's cultured pearl strands have the following unique characteristics in common:
>> 18kt gold clasps engraved with the Mikimoto trademark
>> Natural-color gemstones that have not been exposed to radiation or color treatment
>> Stringing with the finest silk thread
>> A separate M-circle logo charm
The Akoya pearl, the most popular of all pearl types offered by Mikimoto, is prized for its brilliant luster and rich color. The retail cost of the Mikimoto America 1927 Limited Edition is $9,600.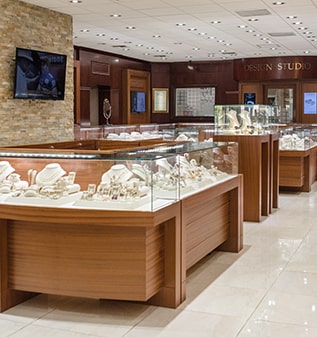 Visit us in real life.
4210 N. Federal Hwy.
Lighthouse Point, FL
33064
Visit us
Store location
Mon-Sat: —
Sunday:

Closed
4210 N. Federal Hwy.
Lighthouse Point, FL
33064