Milestone Jewelry Gifts that Go The Distance
By

Nina Glaser
·
September 13, 2014
In need of the perfect piece for a precious person? Two types of jewelry come to mind: diamonds and pearls. These "go-to" gems are always appropriate, whatever the occasion or age of the recipient.
Diamonds and pearls are sophisticated classics that never go out of style. They're the perfect choice for bat mitzvah, quinceañera, Sweet 16, high school or college graduation, or wedding gift. (While these are personal milestones, diamond jewelry can also mark professional achievements. It wouldn't be unheard of to treat yourself to diamond jewelry, either!)
Diamonds
Diamond jewelry can be worn with everything from jeans to evening gowns. Studs and solitaires are equally at-home in school, at work and at-play.  Among the things you must consider when shopping for diamonds:
The 4Cs are cut, color, clarity and carat weight. Of these, cut is the most important of the quad and should not be compromised. The diamond's cut is what gives the stone "life."
 Spend comfortably. Decide before you start shopping how much you can afford. Stick to the monetary number you have in mind to keep the retail experience as pleasurable as possible. Remember: diamond jewelry is available for just about every budget.
You want to be sure that any diamond you buy is conflict-free. Buy from a source that is in compliance with the Kimberly Process Certification Scheme (KPCS).  As a participant is the cooperative movement of governments, industries and organizations working to eliminate illegal associations attached to diamond purchasing, J.R. Dunn Jewelers specifically states on its purchase orders:
"The diamonds herein have been purchased from legitimate sources not involved in funding conflict and in compliance with U.N. resolutions. The seller hereby guarantees that these diamonds are conflict-free, based on personal knowledge and/or written guarantees provided by the supplier of these diamonds."
Among the things you should look for:
A stamp that shows the precious metal content of the piece (14kt, 18kt)
 A brand trademark
Well-proportioned design and stones in proper alignment
Parts of the piece should fit together effortlessly
Details should be distinct and precise
Finishing should be well-executed – from the top to the back and inside – no cracks, bumps weak spots, rough areas or pits.
A  third-party grading report or other proof of the stone's quality
The stone's country of origin
A return policy.  J.R. Dunn Jewelers accepts returns on jewelry 30 days from the date of purchase in the showroom or delivery for pieces purchased online.
Pearls
When looking for pearl jewelry, buy from a reputable jeweler. J.R Dunn Jewelers is an authorized dealer of Mikimoto. Pearls come in a wide range of colors, sizes, shapes and types. There are natural pearls and cultured pearls; the latter being the most commonly used in jewelry. There's a pearl for every neck, ear and wrist! When selecting pearl jewelry, you should know:
There are various types of pearls available, from natural to cultured, freshwater and saltwater. Natural pearls are extremely rare. Cultured pearls are the most common used in pearl jewelry. Freshwater pearls are grown in the lakes, rivers and ponds in China. The Japanese Akoya, South Sea pearl that's found in Australia, Indonesia and the Philippines, and Tahitian (not exclusive to Tahiti, by the way!) pearls are part of the saltwater group.
There are quality factors associated with pearls. A pearl's luster – the reflections on the pearls' surface – is the most important feature. It should be share and intense. Also consider the appearance of the pearls; do they appear balanced? Do they look similar? A piece with closely matched pearls will cost more.
What size is appropriate for the person who'll be wearing the gem? The larger the pearl, the greater the cost; balance pearl size with the amount available to spend.
The lifestyle of the person you're shopping for should be taken into account. There are various lengths of pearls available, from ultra-short collar to 16" choker, 18" princess, 22"-24"matinee, 30"-32"opera and the even longer rope.
Younger women often start with shorter strands and smaller pearls, "graduating" to longer lengths and larger pearls as they mature.
A few "helpful hints" to help in your selection of pearl jewelry:
Examine the color of pearl jewelry against a white backdrop; you'll be able to see the overtones – rose on white pearls, green on black pearls.
See how much light the pearls reflect. The effect you want is like looking into a mirror. You also want consistency from gem to gem.
Most pearls are not quite round and a bit lumpy. Marks, grooves or lumps occur naturally, as the foreign bodies inside the oyster brush up against the pearl as it is created.
Give the Gift That Keeps on Giving
Beautiful as stand-alone jewels, a single strand of pearls and diamond studs or a solitaire are items that can "grow" with girls and women.
A single pair of diamond studs can be "dressed up" by adding:
a halo (or two!) of smaller stones
multiple earring jackets for an endless variety of looks
another diamond or other gemstone below
A diamond solitaire on a chain can be made different through the addition of additional stones (of the same size or graduated). The solitaire can become a center stone showcased by a smaller diamond halo, or a three-stone or journey necklace can be created.
Pearls can be further enhanced with:
other necklaces to stack with the original
a second strand that:
o    lengthens the first o   creates a double-strand piece (and then a triple strand)
an enhancer to customize the look of your pearls
the addition of complementary pieces: earrings, bracelet, ring
Like their diamond counterparts, pearl studs can be updated with a halo of diamonds, or the addition of a second pearl. They can also be made into a hanging earring in a new design. My pearl pendant and my brother's pearl tie tack were the result of a pair of double-pearl earrings my mother wore on her wedding day.  She still wears the two remaining pearls as a pair of studs. We all love the fact that two generations are enjoying the gemstones.
These "investment" pieces will be relevant for years – even decades!  They will leave a lasting impression -- on the recipient and the people who will have the opportunity to admire the jewelry when they wear it! Most important of all, perhaps, is the eternal sentimental value they deliver. These keepsake pieces are sure be treasured for generations to come.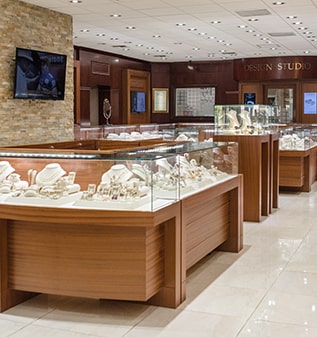 Visit us in real life.
4210 N. Federal Hwy.
Lighthouse Point, FL
33064
Visit us
Store location
Mon-Sat: —
Sunday:

Closed
4210 N. Federal Hwy.
Lighthouse Point, FL
33064
Save up to 15% on your first order.
Receive email updates on stuff you'll probably want to know about, including products, launches, and events. Unsubscribe anytime. Some exclusions apply…