Most Popular Engagement Rings as New Styles Emerge in 2018
By

Jenna Fish
·
July 26, 2017
Three Stone Rings
As we transition into the new year, the hot engagement ring trend of 2018 will be three stone rings. One larger diamond is framed by two smaller gemstones on each side, framing the center diamond and results in the illusion of a larger center diamond. The style was very classic in the late 90's and early 2000's, now returning to the engagement ring trends stronger than ever. The three stones have been known to be a symbolic representation of the couple's past, present, and future--making it a very meaningful option for an engagement ring. We know this style will stand strong throughout 2018, especially as Prince Harry recently proposed to American actress Meghan Markle with a stunning custom three stone engagement ring featuring a cushion cut diamond in the center. Three stone engagement rings are classic, meaningful, and elegant—a beautiful style sure to leave her sparkling with delight.
Featured Ring: A. Jaffe Three Stone Quilted
French Pavé Engagement Ring
Trends of popular engagement rings fluctuate over the years as new styles emerge. Here are six hot engagement trends among the modern-day bride to consider when deciding which style best suits you.
Split Shank
Engagement rings with split shanks give a fashion-forward and architectural feel to an otherwise traditional solitaire or pavé setting. Most split shank engagement rings begin touching, moving towards a larger space where they meet the diamond, as seen below. You can also opt for the inverse, with the gap beginning larger on the east and west points, narrowing and meeting together at the diamond for a very unique look. Either way, the dividing of the shank gives the illusion of two bands, which also means more sparkle!
Featured Ring: Tacori HT2548RD Petite Crescent Split Shank
Round Bloom Engagement Setting
East-West Settings
We've been talking a lot about this hot trend—east-west engagement rings are a unique addition to the bridal market. They showcase the diamond being horizontal in orientation, rather than the more traditional vertical setting. This placement of the diamond not only elongates the finger, but also creates the illusion of a larger stone. An east-west setting is the perfect choice for the modern bride who wants something unique and elegant.
Geometric Silhouettes
Adding a geometric shaped halo around your center round or oval diamond is a fashion forward and modern twist on the traditional halo setting. Designers like Karl Lagerfeld have a variety of geometric profiles, such as hexagons, asymmetrical points, and knife edge details. These unique halo silhouettes are appealing as they often make the center diamond appear larger.
Featured Ring: Karl Lagerfeld Kollection #2 Geometric
Halo Knife Edge Diamond Engagement Ring Setting
Rose Gold
There is no doubt of the rise in popularity of rose gold engagement rings, and it is likely to be a trend that stays around for a while. Rose gold eludes a feel of romanticism and uniqueness for someone looking for a more vintage-inspired engagement ring. The blush undertones compliment various cool or warm skin tones and proves to be more versatile than gold or silver. It is also surprisingly more durable than two of its alternatives, yellow gold and white gold, making it a great choice for an engagement ring you will be wearing regularly. However, it is not quite as durable as platinum.
Tacori offers a 'Pretty in Pink' collection of various rose gold styled engagement rings. For those who don't want to fully commit to a rose gold ring but still love the hue, Verragio rings often feature a rose gold accent on the interior of the ring as a hidden surprise.
Featured Ring: Tacori Pretty In Pink
HT2550OV Engagement Setting
Baguettes
Baguette diamond accents framing a center diamond lend to a unique art deco feel, appealing to brides looking for something different yet classic. There is also an increasing popularity of baguettes being used as the solitaire diamond in an east to west placement (horizontal rather than vertical), appealing to more minimalistic brides. Baguette diamonds offer endless opportunities to make an engagement ring unique and look stunning when paired with other shapes.
Featured Ring: Ritani Tapered Baguette
Diamond Engagement Mounting
Hidden Details
Intricate details visible from the side view of the ring are increasingly popular and will sparkle from all angles. Tacori has perfected this aspect of engagement rings, with a devotion to deliver beauty from every angle. Verragio engagement rings also showcase intricate details with scrolling along the inside for a very romantic and feminine feel.
Featured Ring: Tacori HT2522CU Blooming Beauties
Engagement Ring Setting
Elongating Shapes
Pear, marquise, and oval shaped diamonds are making a huge comeback as a chic alternative to the ever-popular round. The flattering silhouettes elongate the finger and often make the carat size appear bigger than it actually is. Not only do they appear larger in a carat to carat comparison with a round diamond, but they also typically cost less. Combining the traditional, rounded edges with a sharp point on pear and marquise diamonds lend to its more modern appeal.
Featured Ring: White Gold Halo Pear
Engagement Mounting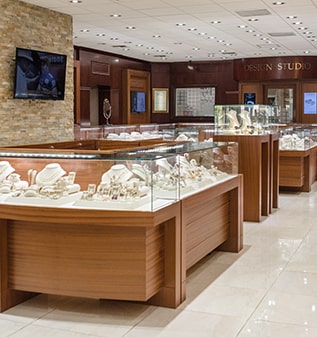 Visit us in real life.
4210 N. Federal Hwy.
Lighthouse Point, FL
33064
Visit us
Store location
Mon-Sat: —
Sunday:

Closed
4210 N. Federal Hwy.
Lighthouse Point, FL
33064