Opals are Opulent! The New High Fashion Jewelry Trend
By

Christine Donovan
·
October 29, 2015
Opals are now trending in the world of high fashion jewelry. While walking around the AGTA Gem show, Ann Marie Dunn, co-owner of J.R. Dunn Jewelers in Lighthouse Point, Florida, and Robert Pelliccia, who leads J.R. Dunn's design team, stumbled upon a gorgeous opal gemstone. This large opal had been discovered in the mines of Coober Pedy in South Australia and weighed in at 13.29 carats. Its brilliant hues were mesmerizing, but after admiring the gemstone for several minutes, the J.R. Dunn team walked away. They didn't get far. Knowing that this opal was one-of-a-kind, they returned to purchase this exciting piece, and the result is electrifying.
"From the moment I saw the stone, I was designing, "said Robert. "The palette reminded me of the setting sun, and I knew "Opal Sunset" was going to be the name of the piece."
Enchanted by the whirlwind of colors in this opal, Robert crafted a stunning pendant. The rectangular stone is encased in 18kt rose gold and surrounded by a thin frame of fiery yellow diamonds. Clusters of pink sapphires and white diamonds form a second halo with an abstract organic shape. This combination of gemstones around the opal heightens the glittering hues of yellow, orange, green, red, purple, and blue that glow from this exquisite piece and the pendant is finished with a diamond bale, which elegantly floats it along the "Diamonds by the Yard" link chain.
Robert Pelliccia continues to create fresh styles in opal for the modern world. Another inspiration came from an opal gemstone that was discovered in Lightning Ridge, Australia. This cosmopolitan ring, which is set in 18kt white gold, has a 4.31-carat round opal as its centerpiece, and dazzling white diamonds circle the gemstone. Along the ring's band, two baguettes flank this setting while tsavorite, aquamarine, and blue topaz are assembled around the opal and diamond center to lift the shimmering green and blue hues within the opal. A sculpted band is accented with a single diamond on each side to elevate this fabulous ring.
Overjoyed with the prospect of beautiful opal jewelry, Robert has designed a third unforgettable opal piece with a stunning Boulder opal that was discovered at the Hayricks mine in Queensland, Australia. This oval 7.78-carat opal with vivid green and blue hues becomes the nucleus of a jeweled peacock feather pendant. It is set in 18kt white gold and trimmed with white diamonds. Rich blue sapphires and the vibrant green of tsavorites flair around the opal eye into feathery strands. Additionally, yellow sapphires transition into smooth strands of 18kt yellow gold that sway from the bottom to complete this amazing design.
The fall jewelry lines for 2015 will feature radiant opals, and fashion-focused women will be wearing them in rings, pendants, brooches, and earrings. They are big and expected to get even bigger. No woman will want to be without, so demand is going to be high. With the tantalizing designs from Robert Pelliccia, J.R. Dunn Jewelers is ready to bring the fabulous world of opals to you!
A BIG thank you goes out to Diamonds in the Library (Peacock Pendant Photo) and The Gem Therapist (Opal, Diamond & Gemstone Ring), who provided these awesome photographs. Please follow each of them on Instagram to see more fantastic pictures of spectacular pieces of jewelry.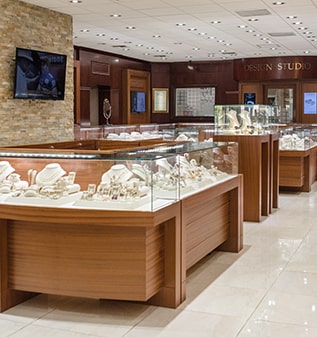 Visit us in real life.
4210 N. Federal Hwy.
Lighthouse Point, FL
33064
Visit us
Store location
Mon-Sat: —
Sunday:

Closed
4210 N. Federal Hwy.
Lighthouse Point, FL
33064