Philip Stein Thin Sleep Bracelets & More New Items
By

Bianca Kawecki
·
May 4, 2015
I am excited to share with you some of the newest Philip Stein designs that have just arrived in our showroom.

Philip Stein just launched a new slimmer version of the classic sleep bracelet. The model shown to the left has a rose golden case and sea blue microfiber strap. The sleep bracelet was designed to be a modern, refined and convenient nighttime accessory. Philip Stein's "Natural Frequency Technology" is now showcased by the new glass window in the updated model. The microfiber straps are interchangeable and their soft and slim flexible design provide optimal comfort. Sporting these bracelets helps the wearer achieve better sleep and wake up even more refreshed. I personally think the new design is so stylish and the rose gold tone so fashion-forward they look great as show in the photo to the left.

The Active Extreme Collection is another new introduction to the Philip Stein timepiece family. While their functionality was developed with the athlete in mind, their quality craftsmanship and sleek design have a timeless appeal that is perfect for any occasion. Furthermore, with Philip Stein's Natural Frequency Technology, customers have reported feeling "more focused and less stressed" while wearing the design. The Active Extremes come in three color variations: black, blue and orange, and are attractively priced at $495.

Here, Tyrone is sporting the design at "work" where the timepiece looks elegant paired with a John Hardy Classic Chain bracelet. As you can see, this is a timepiece you can wear while sail fishing or to a corporate meeting without skipping a beat.

The Extreme Chronograph variation comes in the same three colors plus an additional green version pictured below. This variation is priced at $695.

I am finding the newest rose golden variations of the Classic Philip Stein models to look so refreshing and modern. I couldn't help snapping a few photos of how lovely the Classic Round Mini watch with its 5 Link Rose Gold Plated Bracelet looks with some 18kt rose gold Fope FlexIt diamond bracelets.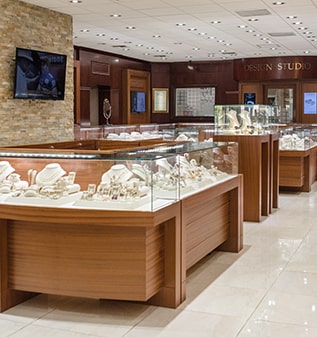 Visit us in real life.
4210 N. Federal Hwy.
Lighthouse Point, FL
33064
Visit us
Store location
Mon-Sat: —
Sunday:

Closed
4210 N. Federal Hwy.
Lighthouse Point, FL
33064
Save up to 15% on your first order.
Receive email updates on stuff you'll probably want to know about, including products, launches, and events. Unsubscribe anytime. Some exclusions apply…