Rare, Record-breaking Paraiba
By

Nina Glaser
·
November 17, 2014
Whether you wear jewelry or collect it, Paraiba tourmaline is a top-drawer choice for a gemstone.
Discovered in the 1980s by Heitor Dimas Barbosa, the stone hails from the Mina da Batalha in the Federated Brazilian State of Paraiba.  Brazil is the classic country for tourmalines of all colors of the rainbow.
What Makes The Paraiba so Prized?
The turquoise to green colors are exclusive to this small, rare and precious gemstone.   Paraiba tourmaline owes its splendid color to copper and magnesium.  The interplay between these two alloys gives rise to colors like emerald green, turquoise, sky and sapphire blue, indigo, bluish-violet and purple.  Higher concentrations of copper lead to blue, turquoise and green shades, while higher concentrations of manganese in the mineral lead to violet tones.
Paraiba tourmaline offers unrivaled color, brilliance and luminosity.  Their attractive hues have been termed "neon"," electric" and "fluorescent",  as well as "unique" and "breathtaking".  Radiant shades conjure up images of peacock feathers and tropical waters.  This is a mineral that  appears to glow from the inside out.
Exclusivity and Economics
The Paraiba tourmaline made its first U.S. appearance in 1987.  Its distinctive appearance made it immensely popular, and over the years it has come to command top prices.  Its recognition and high esteem also resulted in the depletion of the mines in Brazil that produced the stone.  Green-blue Paraiba-like stones were produced in the mountains of Mozambique and Nigeria and it is anticipated that both these locations will become obsolete resources.
 "With one Paraiba tourmaline mined for every 10,000 diamonds, it's not unusual for a beautiful gemstone with spirited colors to rival or exceed the price of a diamond," said Jim Dunn, president of J.R. Dunn Jewelers.  "When shopping for this gem, one would choose color as a key factor, over both size and clarity."
"The Guinness World Records-holding Paraiba tourmaline, the Ethereal Carolina Divine Paraiba, set in an ocean-themed necklace will be at auction this year," added J.R. Dunn Jewelers Vice President Sean Dunn.  "At 191.87 carats, with pre-auction estimates up to $125 million, all eyes will be on the one-of-a-kind piece and is sure to drive even more demand for this very scarce gem."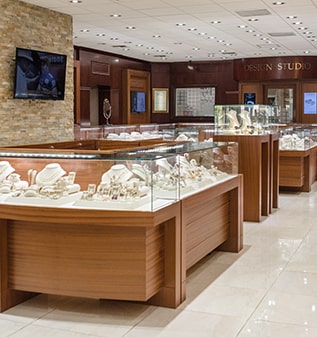 Visit us in real life.
4210 N. Federal Hwy.
Lighthouse Point, FL
33064
Visit us
Store location
Mon-Sat: —
Sunday:

Closed
4210 N. Federal Hwy.
Lighthouse Point, FL
33064
Save up to 15% on your first order.
Receive email updates on stuff you'll probably want to know about, including products, launches, and events. Unsubscribe anytime. Some exclusions apply…