Robert Pelliccia's "Opal in the Desert" Wins AGTA Spectrum Award
By

Nina Glaser
·
July 26, 2016
Award-winning jewelry designer Robert Pelliccia just earned his 12th American Gem Trade Association (AGTA) Spectrum Award, at this year's annual natural colored gemstones and cultured pearl jewelry design competition.
Pelliccia was honored with third place in the evening wear category for "Opal in the Desert," a multi-gemstone pendant suspended on a black diamond bead necklace. The focal point of the 18kt white and yellow gold piece is a 23.94-carat boulder opal. Blue and pink sapphires, totaling .58ctw, and white diamonds with .92 ctw are also part of the gem of a necklace.
Pelliccia discovered the Australian opal while at a gem show with his sister, Ann Marie Dunn, co-owner of J.R Dunn Jewelers in Lighthouse Point, FL, where he is the in-house designer and leader of a creative team.
"We fell in love with the mesmerizing colors and the unique way the hues were distributed on the surface of the gem," said Pelliccia. "Half the opal had blues and greens that swirled together to look like a pool of water, while the other half looked like a burning sunset of pinks and blues."
What does a jewelry designer do with a gemstone that clearly inspires awe? If he's Robert Pelliccia, he designs something that makes the opal really stand out! A thin row of diamonds envelop the opal, and colored sapphire surround the muted 18kt yellow gold that frame the focal point.
As shared by the AGTA web site regarding evening wear designs: "Jewelry in this category should fall nothing less of spectacular. Whether brazenly bold or softly subtle, each submission should strive for red carpet fabulous, stunningly chic or delicately delicious; all with exceptional color."
Pelliccia's piece is red-carpet-ready and shows a distinct play of color.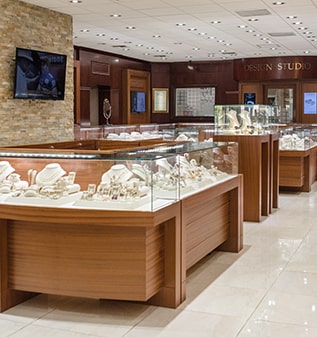 Visit us in real life.
4210 N. Federal Hwy.
Lighthouse Point, FL
33064
Visit us
Store location
Mon-Sat: —
Sunday:

Closed
4210 N. Federal Hwy.
Lighthouse Point, FL
33064
Save up to 15% on your first order.
Receive email updates on stuff you'll probably want to know about, including products, launches, and events. Unsubscribe anytime. Some exclusions apply…