7 Amazing Sapphire Engagement Rings from Tacori
By

Nina Glaser
·
September 24, 2015
Are you looking for an engagement ring that dares to be different and stands out in a crowd? Blue sapphire is a natural choice! As a center stone or accent. The most famous engagement ring in the world, which now graces the finger of the Duchess of Cambridge, showcases the protective gem. They are royal-looking and romantic. And no stranger to proposals! The stone has been popular since the Victorian Era. They are durable enough to wear every day, too. With a Moh's scale rating of 9, they follow right behind the diamond.
The most important quality for a sapphire is its color. You can expect to find some inclusions. Take a look at multiple stones side-by-side. They should be lively, with an even reflection of light.
Take a look at Tacori engagement rings with blue sapphires that pay tribute to the September birthstone. The custom designs are based on styles from various collections. If you can dream it, Tacori can build it; the perfect ring for you, per your specifications!
Petite Crescent HT2549RD

A round center sapphire gets a white diamond halo and ribbon twist band. Call it dainty. Call it feminine.

Classic Crescent 2578RP

The iconic half-moon designed that started it all is featured in this ring with a pop of color from sapphire side stones. The look is timeless. Intricate. Grand.

Simply Tacori 2525PR

A frame of white diamond baguettes and round brilliant diamonds frame a Princess shaped sapphire center stone. Strings of round white diamonds adorn the split-shank band. The piece glitters with glamour.

Dantela 2620RDLGP

An emerald-shaped sapphire center stone is the center of attention in this ring with round white diamond halo and band. It is a modern classic.

Blooming Beauties HT2520CU

A ring of blue sapphires surround a cushion-shaped white diamond center stone. The traditional gems dot the diamond band. You – and everyone who sees the ring – will be impressed.

Royal T HT2613EC

This ring is very much like the Royal T model shown to the left (HT2613CU10X8), but with an emerald-shaped sapphire center stone! It clearly shows that whatever shaped stone you select, the large, exquisitely detailed ring will be radiant.

Royal T HT2613CU10X8

An oval-shaped center sapphire is surrounded by a round white diamond halo. The white diamond band features graduated with a single sensational row on each side. You will see beauty from every angle!
Most Tacori engagement settings are available in platinum or 18kt white, yellow or rose gold. The Royal T collection comes in platinum, yellow or rose gold only. The stones in the engagement mountings are G color and VS clarity.
Can you think of a better way to be a bride with something blue? Maybe it is your favorite color. Or one of you was born in September. The stone is always works well in bridal jewelry. Sapphires are a symbol of faithfulness and loyalty. As well as truth.
So go ahead; express yourself! Flaunt a rich blue bauble. Your sapphire engagement ring will sparkle and stun!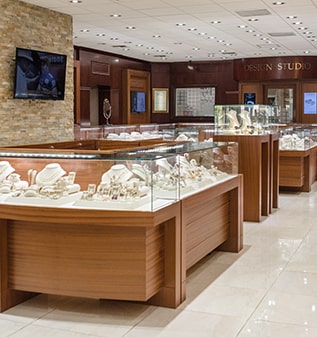 Visit us in real life.
4210 N. Federal Hwy.
Lighthouse Point, FL
33064
Visit us
Store location
Mon-Sat: —
Sunday:

Closed
4210 N. Federal Hwy.
Lighthouse Point, FL
33064