South Florida Authorized Rolex Repair & Certified Pre-Owned Rolex
By

Nina Glaser
·
May 29, 2014
Watches have been a status symbol since their invention, and may just be the most important accessory in a man's wardrobe. Timepieces make a strong statement about the wearer; people look at watches to determine social position, educational level, taste and wealth.
Rolex is the most recognized watch brand in the world; a leading global status symbol. Ever-timeless, ever-elegant, the brand has a century of innovation behind it, securing its position of excellence, performance and prestige in the field.
The single largest luxury brand watch, Rolex produces about 2,000 watches per day. All are crafted from the finest raw materials – precious metals (including gold and platinum), stainless steel, ceramic, mother-of-pearl – and assembled with meticulous attention to detail. There is a style for anyone and everyone, including the most adventurous people in your life: deep-sea divers, aviators, mountain climbers, explorers. The watchword (no pun intended!) for a Rolex-wearer: achiever.
For anyone who asks, "Why Rolex?" consider the company's History of Firsts. Rolex pioneered:
The waterproof and dustproof watch (Oyster, 1926)
A watch with automatically changing date on the dial (DateJust, 1945). The Jezebel dial – with its fluted bezel -- was created especially for this self-winding wrist chronometer, making it immediately recognizable as a Rolex. It remains a pillar of the Oyster Collection.
The original case waterproof to 100m/330 ft. (Oyster Perpetual Submariner, 1953)
The showing of two time zones at once (GMT Master, 1954)
A watch with automatically changing day and date on the dial (Day-Date, 1956). The invention and patent of the first self-winding mechanism with perpetual rotator, which is at the heart of every modern-day automatic watch
The use of 904L steel. This highly corrosion-resistant superalloy can be polished to an extraordinary sheen
Collectors seem to agree that Rolex is the brand to own. A 1949 Oyster Perpetual with a cloisonné enamel dial depicting a whale and frigate in stormy seas recently fetched $1.2 million -- the most expensive Rolex ever sold at auction – at a Christie's watch sale in Geneva, Switzerland.
It is interesting to note that the name "Rolex" was the brainchild of the brand's founder, Hans Wilsdorf. According to Rolex lore, he wanted his watches to bear a short, easy-to-say and easy-to-remember name that translated well to multiple languages, and was aesthetically pleasing on watch movements and dials.
Mechanical watches are the go-to movement for the finest watches. Rolex was the first wristwatch in the world to receive the Swiss Certificate of Chronometric Precision, granted by the Official Watch Rating Centre in Biel. The company also participated in the development of the original quartz watch with movements, with company engineers instrumental in the design and implementation of the technology during the late '60s and early '70s.
J.R. Dunn Jewelers is privileged to be an Official Rolex Jeweler. The family-owned, 45-year-old business offers authentic pre-owned Rolex timepieces that have passed a rigorous certification process by Master Watchmakers. They are inspected, cleaned and serviced, with each timepiece expertly restored and accompanied by a two-year J.R. Dunn limited warranty.
Rolex service and overhauls are performed on-premises by Certified Rolex Technicians and include a host of procedures, including uncasing and disassembling movement; an ultrasonic wash of all watch parts to remove old oils and/or greases; applying new oils and greases and then reassembling; polishing and refinishing the watch case and bracelet; cleaning the dial and hands, and re-casing the movement; a 24-hour wrist simulator test; final accuracy calibration; and a two-year warranty on overhaul work done. From Date, DateJust and Non-Date Models to the Daytona Cosmograph, Gents President (day/date), Quartz Date and DateJust, Sea Dweller, Submariner, Yachtsmaster, Explorer or GMT, the professionals at J.R. Dunn can have your Rolex in tip-top time-keeping condition.
The Dunn Difference
The Watch Repair Department at J.R. Dunn Jewelers is staffed by professional Master Watchmakers who have combined experience of nearly 75 years and are available to speak with customers personally, if necessary. Members (for two decades) of the American Watchmakers-Clockmakers Institute, the premier organization dedicated to preserving and protecting the highest standards in workmanship, they adhere to their Code of Ethics:
"In business practices, each member will conduct him or herself in such a manner that will reflect positively on him or her, on the AWCI, and the entire watch and clock repair industry, including all its participants."
The Watch Repair Service is user-friendly and entirely customer service-focused. When watches are dropped off and require an estimate, someone in the Watch Repair Department will call with a full explanation of the service(s) needing to be performed as well as a cost quote. The facility is also outfitted with the "latest and greatest" in tools and equipment – from bench lighting specifically intended for watch repair, specialized air conditioning filters and dust-collecting mats at the door. Polishing and other "dirty" processes are done in a separate area. A Rolex field representative, serving as brand ambassador, will visit J.R. Dunn every year or two to ensure all services are being performed to the highest standards akin to their own factory. Their oversight includes ensuring the newest tools and equipment for the latest watch models are secured.
Prices – of watches, and servicing and overhaul – vary according to model and materials used.
Three Watch Do's:
"Lefties" should wear their watch on their right hand; "righties" tell time from their left
Watches should never be worn inside your wrist
The fit of your watch should be snug but not tight (and should never "dangle")
Swiss-made watches are still considered to be the best, based on their quality and watch-making philosophy. There's a sense of history and tradition associated with these brands. History and tradition are part of the J.R. Dunn Jewelry story, too. Two Dunn generations run the business together, and it wouldn't be unusual to see a third or even fourth generation on-premises some of the time. The Dunns are known for the relationships they've established…with each other, with their clients, employees and the community at-large. Standards of excellence and friendly service are two of the hallmarks of the J.R. Dunn experience.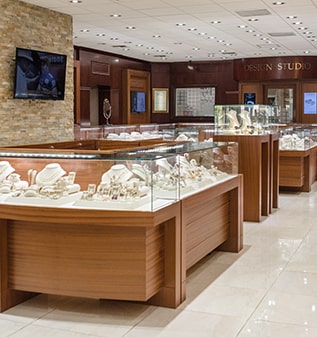 Visit us in real life.
4210 N. Federal Hwy.
Lighthouse Point, FL
33064
Visit us
Store location
Mon-Sat: —
Sunday:

Closed
4210 N. Federal Hwy.
Lighthouse Point, FL
33064
Save up to 15% on your first order.
Receive email updates on stuff you'll probably want to know about, including products, launches, and events. Unsubscribe anytime. Some exclusions apply…