Michele & Philip Stein Watch Straps: Summer Colors 2014
By

Nina Glaser
·
May 15, 2014
What time is it? Summertime! You know, that time of the year when things heat up (summer is, after all, the warmest of the four temperate seasons, though we might sometimes forget that living in Florida…). Days are longer and nights are shorter. The kids are out of school and perhaps going to camp, or the family has plans to take a vacation – together or separately. More time is spent outdoors -- going to the beach, having a picnic or barbecue, playing sports.
Michele watch straps come in a variety of colors and prints.
The summer season also means color, texture, comfort and style in all areas of your life -- including your accessories. And the wristwatch just might be one of the most novel – and certainly necessary – fashion accessories you can purchase.
Today's watches have dual characteristics: they are at-once status symbols and time-telling devices; decorative as well as practical. Watches are a wardrobe essential. They retain the essence of history and nostalgia, and are the quintessential gift and heirloom. Watches are often among one's most prized possessions and keepsakes for multiple generations. The fact is, people are just plain passionate about fine timepieces!
A watch can help you:
Check the time undetected (go ahead, take a "sneak peek," nobody can tell!) and hands-free
Be without your cellphone (and, consequently, your email!) – how good does it feel to be "disconnected" and "unencumbered" for a change?
Complete an outfit (you won't be saying "I feel naked…")
Make a style statement – Watches let you be…well, you! The type of watch you select is not subject to the same type of "rules" as other fashion and accessories, particularly when it comes to the workplace.
Show people something about you – Are you bold? Demure? Chic? Sporty? Let your watch reflect your personal style this summer.
Feel grown up – A watch is an "adult" accessory…suitable even for our youngest members of society!
Summer 2014 watch trends include neutral, light colors like taupe and pink that compliment skin tones and are luxurious, delicate and fresh; pops of color taken from ocean hues, primary and neon colors that accentuate a tan and infuse fun, like coral pink, limeade green and bright blue; pastels like baby blue, pale lavender and subtle yellow; as well as gold and silver influences. Manufacturers have also take their cues from gardens, showing floral-print straps that can't help but bring a smile to your face (do you remember "Flower Power"?). Quilting and metallics are other on-point trend-setters; remember "all that glitters isn't (necessarily) gold…you'll see patent leather straps that get their shine on with a subtle iridescence. And it just wouldn't be summer without some Americana: red, white and blue are still mainstays (think how fashionable they'll be for Memorial Day and Fourth of July weekends! By the way – in case you were wondering -- yes, you can continue to wear white after Labor Day!)
J.R. Dunn Jewelers features watches of all styles and price points, including luxury brands Michele and Philip Stein. These manufacturers produce watches that are more than timepieces; they're appreciated as jewelry, personal adornment and, in the case of Philip Stein, "a companion to modern living."
Michele watches have a local heritage, as a reflection of the glamorous, vibrant lifestyle of Miami.  These timepieces feature bold, brilliant hand-set diamond cases and mother-of-pearl dials, paying homage to the Art Deco influence of South Beach. They are also famous for their interchangeable watch bands, helping owners personalize their looks at-will to match their mood or attire…easily and economically. Watch straps are sourced from around the world and include fine alligator, exotic skins and premium calfskin leathers.
Classic and feminine, Michele watches and have been featured in a host of women's magazines, including Cosmopolitan; Harper's Bazaar; Elle; W; O, The Oprah Magazine; InStyle; Genlux; People, and Nylon.
From gold watches to the seven styles of Deco, curvy Serein, everyday modern classic CSX, retro-glamorous Urban, highly fashionable Sport Sail, playfully elegant Butterfly, distinctive Tahitian, stylish Ceramic and playfully luxurious Jelly Bean models, and  limited and special collections, there's a Michele watch for everyone!
It's easy to create your own custom Michele timepiece. All you need to do is select a watch head and strap, and…voila! Timeless elegance and contemporary fashion.
The natural frequency technology of Phiip Stein timepieces are said to be "helping people live in tune," with a greater sense of wellbeing and balance. Wearer testimonials have described better sleep, less tension, improved concentration and enhanced well-being.
Change your strap as often as you change your jewelry with Philip Stein's easy to swap watch straps.
Our modern world has frequencies that are both natural and man-made; the Natural Frequency Technology in Philip Stein accessories are specially programmed to pick up and channel only those frequencies that are natural and beneficial to our bodies and minds.  The watches have a dual time zone dial, interchangeable straps, and a window allowing for the observation of the unique proprietary technology disc. The Philip Stein Natural Frequency technology works much like an antenna, harnessing and channeling beneficial natural frequencies directly to your body.
Isn't it nice to know that there's a watch in our fast-moving world that can help improve one's quality of life? Small wonder that Philip Stein timepieces have made it to Oprah Winfrey's "Favorite Things" list three times (in 2003, 2005 and 2010) – the only timepiece to receive this honor. They've also been featured in many lifestyle publications, including Men's Style; Click On!; Good Housekeeping; InStyle; More; Harper's Bazaar; Grazia; Inside Showbiz; Good Housekeeping;  Martha Stewart Weddings; Vogue; GQ; International Traveler; L'Officiel; and Esquire. The distinctive Philip Stein watches, sold in more than 30 countries worldwide, not only look good, they feel good!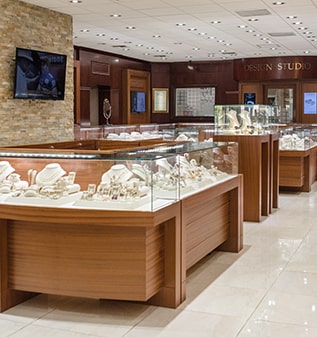 Visit us in real life.
4210 N. Federal Hwy.
Lighthouse Point, FL
33064
Visit us
Store location
Mon-Sat: —
Sunday:

Closed
4210 N. Federal Hwy.
Lighthouse Point, FL
33064
Save up to 15% on your first order.
Receive email updates on stuff you'll probably want to know about, including products, launches, and events. Unsubscribe anytime. Some exclusions apply…