Tacori to Sell Fashion Jewelry Direct to Online Consumers
By

Nina Glaser
·
January 28, 2016

There's a new entry in the field of retailers selling online directly to consumers: Tacori.
J.R. Dunn is pleased to welcome the fashion and bridal designer to the growing mix of designers who sell jewelry direct to consumer in cyberspace. Designer's web sites generally tell a brand's history, display the craftsmanship and quality of merchandise in a user-friendly way that is largely controlled by brand itself. "They do a fantastic job of romancing and solidifying why a consumer may want a particular piece" says Sean Dunn. "But when it comes time to buy, we are banking on our customers coming back to us online because of the experience we offer."
J.R. Dunn Jewelers in Lighthouse Point broke new ground as one of the first Mom and Pop retailer jewelers to enter the eCommerce arena more than 10 years ago. At that time, this action challenged the status quo and co-owner Sean Dunn was considered a bit of a renegade by his industry peers. Undeterred, JRDunn.com followed luxury department stores like Neiman Marcus and Saks Fifth Avenue in selling designer jewelry online. Now, Tacori is following suit, making its fashion jewelry available for purchase online, as well.
"I am always gratified to see new entries to online retailing," said Dunn. "Luxury brands belong online. An Internet presence allows designers to reach a wider audience, making their goods available to more people. Our clients, whether in-store or online, have developed relationships with our jewelry consultants. They appreciate being able to have occasion to shop in more than one way."
J.R. Dunn Jewelers carries a full line of Tacori fashion jewelry, as well as Tacori engagement rings and wedding bands, the latter setting the retailer apart from others who can now carry products online. The brand is a popular choice for jewelry throughout the year, but is especially relevant for Valentine's Day gifts. The holiday is often seen as a particularly appropriate time for proposals, and the presentation of a piece of jewelry is an obvious go-to.
Tacori merchandise is designed for men and women. See a huge inventory of pieces, including those crafted in sterling silver and karat gold, with and without gemstones, can be viewed at our Tacori Fashion Jewelry page. You can also view our selection of Engagement rings and wedding bands 24/7, 365, in the comfort of your home, office or on your mobile device while on the run.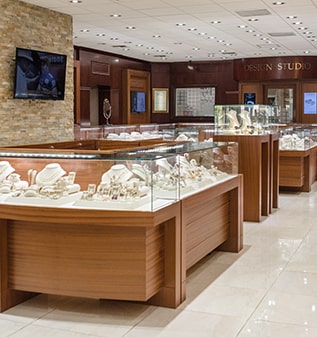 Visit us in real life.
4210 N. Federal Hwy.
Lighthouse Point, FL
33064
Visit us
Store location
Mon-Sat: —
Sunday:

Closed
4210 N. Federal Hwy.
Lighthouse Point, FL
33064
Save up to 15% on your first order.
Receive email updates on stuff you'll probably want to know about, including products, launches, and events. Unsubscribe anytime. Some exclusions apply…