Tag Heuer Connected Modular 45 Smartwatch
By

Zack Rogers
·
March 14, 2017
Tag Heuer Connect Smartwatch Release: Are you addicted to turning fashion and style into unthinkable utopias of reality, achieving what others once thought of as impossible? The architects of creating a coexistence between technology and the coveted world of Swiss Watchmaking have forged yet another alliance on their all encompassing quest of shattering the rules of mediocracy. Tag Heuer, once again defies the limit of what's possible with the return of their number one selling reference, the Tag Heuer Connected Watch.
An encounter between haute horology and today's tech, Tag Heuer redefines what it means to wear a smart device. Infusing the renowned lineage at the brand's core with a sculpted, radically different experience for the Connected Watch wearer. Within seconds, you can now turn the Tag Heuer Connected Modular into an automatic Calibre 5, mechanical watch. Intuitive Quick-Release buttons, gently unhinge the smartwatch from the straps or bracelet allowing the Calibre 5 automatic movement to seamlessly slide into place. The coexistence of history and tech create a full linear portrayal of Tag Heuer's relentless strive for innovation.
Built in the heart of La Chaux-de-Fonds, each Connected 45mm Modular Smartwatch bears the Swiss-Made title as it's components are masterfully crafted within a new Tag Heuer / Intel manufacture. This significant change recaptures the essence of time, as the connected watch and it's mechanical counterparts are created side by side with an unrivaled attention to detail.
Crafting the watch of tomorrow with the expertise of the past, utilizing timeless aesthetics that can be similarly seen throughout the Carrera lineup. A sleek 45mm case creates a unique silhouette as it lays nested between the sets of lugs, capped with rich rose gold and brushed steel. Just as unique as you are, each set of lugs can personalized with options ranging from a precious diamond pave to assortments of gold and steel. Push the crown in and experience the powerful Android 2.0 operating system equipped with TH Studio, allowing users to design the watch dials of their dreams.
But what ground has Tag Heuer not broken yet? Stay tuned-in here for live Coverage of the launch event as Jean-Claude Biver, chairman of Tag Heuer, unveils the new 45mm Connected Modular Smartwatch to the world!
For more information on the New Tag Heuer Connected Modular 45 Smartwatch, Check it Out Here!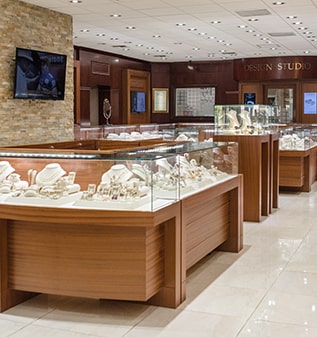 Visit us in real life.
4210 N. Federal Hwy.
Lighthouse Point, FL
33064
Visit us
Store location
Mon-Sat: —
Sunday:

Closed
4210 N. Federal Hwy.
Lighthouse Point, FL
33064