Top 10 Wedding Ring Engraving Ideas that Express Your Love
By

Jenna Fish
·
May 25, 2017
Engraving a special message inside of yours and your partner's wedding bands is a lovely way to add sentimental value. Some jewelers only offer machine engraving, while others will also have hand engraving performed by skilled craftsmen. On average, machine engraving is more affordable being around $30 for 15 characters. Hand engraving adds a special touch and is usually a bit more expensive, around $75 for 8 characters.

Before you consider engraving your wedding bands, you should be absolutely sure of a few things.
SIZING: First, it's important to make sure the ring fits the person perfectly. Resizing after you have the engraving done will often ruin or distort the message.
WIDTH: Second, you will have to consider whether your band is thick enough for the engraving. In general, your ring should be 4-7mm for the best inscription. Any less than this and your jeweler will likely be unable to accept it.
FUTURE: Also, keep in mind that engraving your jewelry could make it more difficult to re-sell down the road if you would like to.
Simple, Romantic Phrases
Choose an engraving that is simple and straightforward representing your love for each other. If you have cute nicknames for each other, you might also incorporate them.

Here are a few sentimental ideas:
| | |
| --- | --- |
| I Love You | Always |
| Ever Thine | To Have and to Hold |
| Beloved | Yours Forever |
| Always Faithful | Forever and a Day |
| To Infinity… | Eternally |
| To the Moon and Back | To be with you, that's all I want |
Coordinates
Commemorate a special place that is meaningful to your relationship and inscribe its coordinates. Perhaps it is the city you met in or a small town where you owned your first home together. Some different formats you could choose are traditional or roman numeral, shown below:
| | | |
| --- | --- | --- |
| 25.27° N, 80.08° W | vs. | XXVI° N, LXXX° W |
Foreign Language
There is a certain 'je ne sais quoi' about romance in a foreign language. Whether it has a personal significance to you, your heritage, or a place you once traveled to—it can be a beautiful way to portray your love.

Here are some ideas:
| | | |
| --- | --- | --- |
| Per sempre tua | Forever yours | Italian |
| Tesoro mio | My treasure | Italian |
| Sei la mia vita | You are my life | Italian |
| Un millione di baci | A million kisses | Italian |
| Je t'adore | I adore you | French |
| Pour tous jours | For all days | French |
| Mon Coeur est a vous | You have my heart | French |
| Veni. Vedi. Amavi. | We came. We saw. We loved. | Latin |
| Eres mi todo | You are my everything | Spanish |
| άπειρη αγάπη | Infinite love | Greek |
| η δύναμή μου | My strength | Greek |
| Hai shi shan meng | Promise of eternal love | Chinese |
Imprints
Rather than words and numbers, you could choose to engrave something like each other's finger print on the partner's ring, symbolizing that you are always close together. If you have children together, you both could have an imprint of your child's finger print as an alternative. Keep in mind that this option may be pricier as it will require precision and specialized machinery.
Short Quotes
Who can put love into words better than famous poets and novelists such as Keats, Voltaire, and Oscar Wilde? Inscribe the inside of your band with a heartfelt, classic quote such as one of these:


"I cannot exist without you." – John Keats
"Romance is everything." – Gertrude Stein
"Who, being loved, is poor?" – Oscar Wilde
"Da mi basia mille." – Catullus
Religious Verses
If you share religious values, you may choose a meaningful verse to engrave on your rings.

Here are a few examples you may choose:

Micah 6:8: This is what the Lord requires of you: Do justice, love kindness, and walk humbly with your God.

Corinthians 16:14: "Do everything in love."

Song of Solomon 1:2: "Let him kiss me with the kisses of his mouth: for thy love is better than wine."
Dates
Significant dates are a popular choice for wedding ring engravings. Engrave your wedding date, the day you met, or your engagement date as a simple and meaningful message. Not to mention, your significant other will never have an excuse to forget your anniversary!

You could choose to do this in several different formats:
| | |
| --- | --- |
| 6.29.2017 | Simple |
| 6/29/2017 | Traditional |
| June 29, 2017 | Long |
| VI.XXIX.MMXVII | Roman Numeral |
A Handwritten Message
For a truly unique engraving, find a jeweler who can take your personal handwriting and translate it to an engraving. All you have to do is write the phrase on white paper with a fine-tip black marker or pen, scan the image to your computer, and send it to the jeweler.
Symbols
There are several types of symbols you could choose to engrave on your rings. Symbols are a great option because they are so short, given the limited space on the inside of your band.

Here are a few ideas of symbols and their meanings:
| | | |
| --- | --- | --- |
| | Lotus Flower | Rising from a dark place into beauty and rebirth |
| | Dove | Infinite capacity the heart has for love |
| | Seashell | Protectiveness of love |
| | Celtic Knot | Eternal love; has no beginning or end |
Silly Phrases
If you and your partner share a love of laughter, you may consider writing something silly on the inside of the band. It's the perfect way to always keep them smiling when they occasionally see it.

Here are a few funny ideas:

No refunds

Put me back on

Finders Keepers

What Happened in Vegas…

My Wife is Hot

My Husband is Hot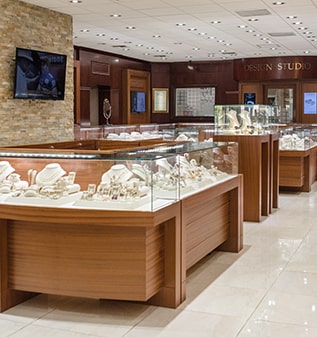 Visit us in real life.
4210 N. Federal Hwy.
Lighthouse Point, FL
33064
Visit us
Store location
Mon-Sat: —
Sunday:

Closed
4210 N. Federal Hwy.
Lighthouse Point, FL
33064
Save up to 15% on your first order.
Receive email updates on stuff you'll probably want to know about, including products, launches, and events. Unsubscribe anytime. Some exclusions apply…