Top 15 Holiday Season Jewelry Must-Haves of 2015
By

Nina Glaser
·
November 9, 2015
If there's one piece every woman needs for when sleigh bells ring, there are five! Your go-tos for this winter's wonderland of parties, get-togethers and worship include:
The top jewelry designers are, well, on top of these trends!
Earring jackets will enhance your studs, providing a second look to them (and from others!) The change is quick and easy! Ear climbers will help you scale to new fashion heights!
Lana Fusion Diamond Ear Cuffs
Brace yourself for the sparkling beauty of these diamond fusion earrings from the Flawless collection by Lana Jewelry. Two curved lines, one slightly larger than the other, are crafted in 14kt yellow gold and embellished with white diamonds. A post backing in the smaller curve is placed in one of three holes of the bar attached to the larger curve so that these stunning earrings from Lana Jewelry rest at the perfect spot on your lobes. Tres magnifique!
Stephen Webster Superstud Sterling Silver Earrings
From the ultra cool Stephen Webster, these chic earrings are part of the Superstud collection. A curved row of sterling silver studs, which are shaped like kites, form each stud earring, and they are graced with sterling silver jackets that fringe your earlobe with triangular studs. Add a little sass to your look with these striking Stephen Webster earrings.
Zoe Chicco Small Eyelast Diamond Earring Charm and Zoe Chicco Tiny Diamond Triangle Stud Earrings (sold separately)
The Triangles 1 collection by Zoe Chicco presents small drops of fabulous with this pair of diamond stud earrings. Designed in your choice of 14kt yellow gold or rose gold, each stud is fashioned into a triangle which is completely embellished with delightful white diamonds. Whether you add a Zoe Chicco earring charm (sold separately) or wear them solo, this set of diamonds studs are a spectacular addition to your wardrobe.
Chokers, a.k.a. collars, are 14" to 16" in length. They hug and bring attention to one's neck. If you have a narrow face, a choker can make your face look fuller. They can also soften the sharp angles of heart-shaped, rectangular and oblong faces.
John Hardy Classic Chain Lava Black Sapphire Braided Collar
From the Classic Chain collection, this collar necklace from John Hardy is amazing. Three strands of sterling silver classic chain attach to the lobster clasp in a tight braid that becomes more loosely woven as it reaches the center, and a section of this loose braid is embellished with glittering black sapphires. At 17", it is designed to rest at the base of your neck. Show off this fabulous John Hardy necklace at your next formal function.
Stephen Webster Superstone Blue Cats Eye Collar Necklace
This amazing collar necklace from Stephen Webster's Superstone collection puts a shimmering blue hue on you! Leaf-like shapes are crafted in sterling silver with a white rhodium finish, and they are set with beautiful blue cats eye gemstones. They are layered around a studded sterling silver necklace with stunning finery. If you have been waiting for any eye-catching piece, this necklace from Stephen Webster is the one for you.
Roberto Coin New Barocco Yellow Gold Diamond Braided Choker Necklace
This gold and diamond choker from the Roberto Coin Roberto New Barocco collection will wrap your neck in luxury. Crafted in braided 18kt gold, the collar measures 16" in length, and features brilliant white diamonds and a hinged push-lock clasp. The wonderful weaving, and harmonious blend of precious metal and gemstones will spark people's imagination as much as it sparkles! Shown in yellow gold, it is also available in white and rose gold finishes. This Roberto Coin braided choker is an absolutely fabulous fashion accessory.
Stacking pendants from Phillips House, Zoe Chicco and Lana Jewelry have pieces that work across collections. Mix them and match them! Chains are shorter at 16", and adjustable between 16" to 18" and 18" to 20". Layering necklaces offers versatility and broad appeal!
Phillips House Affair White Gold Mini Infinity Diamond Necklace
This necklace from Phillips House may be mini in size, but it's maxi in sparkle! Crafted in 14kt white gold, it showcases an edgeless disc set with pave diamonds suspended from a diamond-cut ball chain. This Phillips House necklace will most certainly help you get your shine on!
Zoe Chicco Bars & Curves Staggered Diamond Bar Necklace
From the Bars & Curves collection by Zoe Chicco, this posh necklace is an excellent accent piece. Two staggered bars, crafted in 14kt rose gold or yellow gold, are stationed along an adjustable link chain. One of the bars has a sleek surface while the other is punctuated with white diamonds. Let the contemporary look of this Zoe Chicco necklace rest on your neckline with style.
Lana Small Diamond Charm Necklace
This small touch of sophistication is from Lana Jewelry. A diamond-shaped charm is crafted in 14kt yellow gold and embellished with sparkling white diamonds. It rests along a 16" chain with oval links that are flattened in the middle. This necklace from Lana Jewelry can be worn alone or layered with other fabulous pieces to elevate your style.
Wrap your wrist in an open cuff. They are comfortable and stylish, taking you from day to night. What will your state-making piece say?
Zoe Chicco 14kt Gold Diamond Line Open Cuff Bracelet
The Diamonds 1 collection from Zoe Chicco presents this fabulous cuff bracelet. A thin wire of 14kt rose or yellow gold wraps delicately around your wrist, and each end of the open piece is adorned with three white diamonds. Add a modern touch to your look with this Zoe Chicco bracelet.
Tacori Sonoma Mist Silver Diamond Dome Bangle
Tacori's Sonoma Mist collection drapes a lavish touch of elegance around your wrist with this delicate bangle. This slim sterling silver cuff is adorned on either end with a diamond encrusted dome, and a small Tacori seal in 18kt yellow gold rests on the narrow wire. Let this chic Tacori bangle bracelet make you look picture perfect.
John Hardy Dot Yellow Gold & Diamond Kick Cuff
You will circle back to this John Hardy bracelet again and again! Part of the designer's Dot collection, the kick cuff is handcrafted in 18kt yellow gold and embellished with diamond caps that add intrigue and dimension. They integrate seamlessly into the spherical shape of the piece's design. This well-rounded accessory from John Hardy will be a welcome addition to your jewelry box, working well with just about your entire wardrobe.
Even if you don't have bells on your toes, you can – and should! – have several rings on your fingers, with a few stacking rings.
Tacori Sonoma Mist Rose Gold Petite Dome Ring
From Tacori, the Sonoma Mist collection beautifies your style with a touch of elegance. Small domes of 18kt rose gold are detailed with the crescent design and joined together to form this dainty piece. This Tacori ring will delight you with versatile style on any occasion.
Zoe Chicco 14kt Gold Small Diamond V Ring
Part of the Points 2 collection by Zoe Chicco, this provocative ring makes a statement. A small V is fashioned into the band of this 14kt yellow gold or 14kt rose gold ring, and shiny white diamonds embellish this shape. V is for victory, and you will be fashionably victorious in this Zoe Chicco ring!
Gucci Bamboo White Gold & Pave Diamond Ring
This 18kt white gold Gucci ring is part of the Bamboo collection. The design is based on the stem of a bamboo plant, with a blanket of bling coming from white pave diamonds placed front and center, alongside the Gucci logo. This sensuous, organic Gucci ring is a staple of the sophisticated woman's jewelry wardrobe.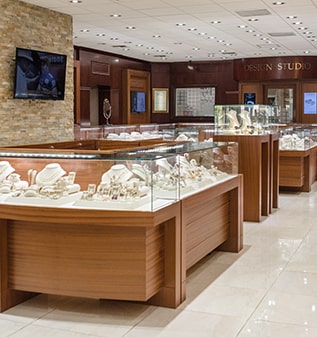 Visit us in real life.
4210 N. Federal Hwy.
Lighthouse Point, FL
33064
Visit us
Store location
Mon-Sat: —
Sunday:

Closed
4210 N. Federal Hwy.
Lighthouse Point, FL
33064