What is an Eternity Band? The Ring She Will Wear Forever!
By

Nina Glaser
·
November 13, 2015
An eternity band is a ring she will want to wear forever! The ring features a simple and beautiful line of gemstones, usually in the same shape and size, set in precious metal. When diamonds are the gemstone of choice they are of matching color and clarity. Emeralds, rubies and sapphires are popular choices, too.
All the top designers seem to want in on this symbol of never-ending love! Look at the Cento Florentine band from Roberto Coin. It is smooth with raised edges, engraved with a delicate pattern. The ornate piece is available in 18kt yellow and white gold finishes. See rings in halo style from The Center of My Universe collection from Forevermark. Michael B. has created a feminine eternity bands inspired by lace. You will be impressed by the Tacori touch in its Adoration collection. Check out the Verragio Eterna collection for two-tone bezel-set bands. Bridal designers have all tastes and styles covered.
Tacori's Classic Crescent and Reverse Crescent channel-set eternity bands; and various pieces from the Verragio Eterna collection, crafted in 18kt gold or platinum, from a two-tone bezel set wide band look to a ring with a carved bezel setting.
Eternity bands are popular wedding band. Can you think of a more romantic gift idea? They are perfect to give for life's big moments. They are perfect to give for life's big moments, from an anniversary to the birth of a child, Valentine's Day, holiday or promotion. You may also choose to wear an eternity band as a right-hand ring.
Depending on the width of the eternity band, you may choose to stack them, or opt for a multi-row model, with a center row of larger stones book-ended by two rows with smaller gems.
An eternity band is forever chic. It must be sized correctly from the beginning for a perfect fit.
Princess and emerald shaped stones are commonly used, as they are compact and harder-wearing than rounds. Square and rectangular shapes are easy to set end-to-end around a band, and rounds can be used in any of the following styles:
Bezel-Set

– This contemporary-looking setting protects a gemstone that's held in place with a metal rim that completely or partially encircles and extends slightly above it.

Channel-Set

– This secure, elegant style is prong-free, so you don't have to be concerned with irritated fingers. The stones are held flush against the rings surface, with diamonds sitting side-by-side. While it makes for a comfortable ring, thanks to a smooth surface, this type of setting does have more noticeable metal. On the plus side, it can fit snugly against other rings without causing damage.

Pave-Set

– This style lends itself to multiple rows, as it features smaller stones set close together with very small beads of metal holding them in place.

Prong-Set – This more traditional setting lets the gemstones be fully seen, whether you select a single, shared, U-shaped or four-prong variety. Diamonds in this type of setting sit above the band, allowing light to pass through the stone allowing them to show their brilliance.
There are many variations to choose from when searching for your eternity band. You will find pieces in white, yellow and rose gold. An eternity band will immortalize the love you share and provide a vibrant visual reminder of cherished moments in your life together.
Click Here to Check Out all of our Eternity Bands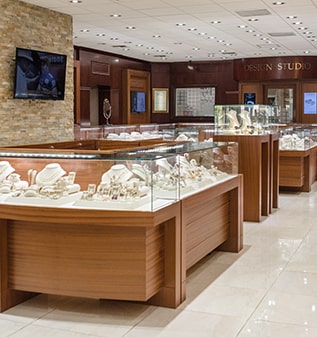 Visit us in real life.
4210 N. Federal Hwy.
Lighthouse Point, FL
33064
Visit us
Store location
Mon-Sat: —
Sunday:

Closed
4210 N. Federal Hwy.
Lighthouse Point, FL
33064
Save up to 15% on your first order.
Receive email updates on stuff you'll probably want to know about, including products, launches, and events. Unsubscribe anytime. Some exclusions apply…