Where Do You See The Tacori Engagement Ring Line?
By

Nina Glaser
·
April 14, 2017
>
Visit J.R. Dunn Jewelers During Tacori Weekend on April 29-30, 2017
Join J.R. Dunn Jewelers for a weekend of wonderful looks from Tacori, including fashion jewelry, engagement rings and wedding bands the last weekend of April. A Tacori representative will join the dedicated J.R. Dunn team and an extensive inventory of bridal jewelry ; earrings; his-and her rings, bracelets and necklaces; and men's cufflinks and accessories.
Tacori Weekend at J.R. Dunn Jewelers is all about helping you make your purchase with confidence…and providing a once-a-year incentive: an American Express gift card with value up to $1,000. A party atmosphere will pervade the two days, with music, balloons, blue champagne and a blue candy buffet. One lucky winner each day will walk away with a pair of Tacori silver ball stud earrings!
All pieces of Tacori jewelry, from sterling silver to yellow or rose gold, mixed metals and platinum, are handcrafted in California. The brand's collections make the perfect present for bridesmaids and great gifts for groomsmen; give them something blue, in the form of jewelry or accessory with blue topaz or turquoise!
As a Tacori Platinum Partner, J.R. Dunn Jewelers is committed to providing the best Tacori experience and a quick turnaround time on bridal jewelry. The event will offer you the opportunity to view more than 500 engagement rings and wedding bands in both contoured and 360 round styles. Associates will guide you through the materials, styles, diamond shapes and settings available, payment options and delivery timeframe for pieces of symbolic and sentimental value. Yes, you read correctly: pieces! Because the details that make a bride-to-be's ring unique can be incorporated into a gentleman's wedding band. You'll be happy to know that every men's wedding ring purchases has the addition of a free sterling silver sports band with it, to be worn during life's more active moments.
You can pair the engagement setting of your choice, from a dozen Tacori collections, with a diamond certified from the Gemological Institute of America (GIA) from the J.R. Dunn Jewelers Diamond Vault, which features gems in assorted color, clarity, size and shape.
Consider your attendance at J.R. Dunn Jewelers' Tacori Weekend story development as you get ready to start the next chapter in your life!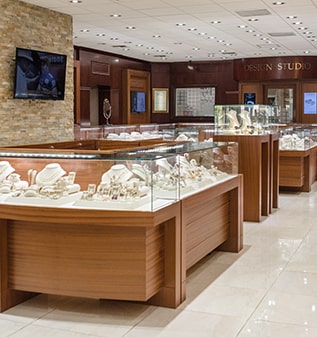 Visit us in real life.
4210 N. Federal Hwy.
Lighthouse Point, FL
33064
Visit us
Store location
Mon-Sat: —
Sunday:

Closed
4210 N. Federal Hwy.
Lighthouse Point, FL
33064