William Henry Crafting an Heirloom: The Art of Decorative Knives
By

Nancy Olson
·
November 18, 2015
A William Henry pocketknife is as much intuitive as it is utilitarian, as much a piece of art as it is an award-winning accessory. Crafted from metals, wood, stone, exotic fossil materials, and more, each knife is the result of a succession of discreet steps that culminate in a small masterpiece. Matt Conable, president and creative architect of the company, is intrigued by the sensuous intersection of form and function, warmth and cold, hard and soft, and in his role as designer, this perspective is evident in the juxtaposition of patterns and materials. The earthy warmth of desert ironwood, for example, is the perfect counterpoint to cool Damascus steel, and the totemic DNA of fossil ivory effectively contrasts with the swirl of mokume gane.
Founded in 1997, William Henry occupies a 6,400-square-foot manufactory in McMinnville, Oregon, that feels more like an artisan's workshop than a state-of-the art facility. Conable modeled the space after a custom knife shop, which is where he first honed his craft as a teen. With natural shell hailing from Australia, wood from such reaches as Morocco and Mexico, and fossil mammoth bone from Russia or Alaska, as well as metalworkers, fine engravers, and stone experts stationed all over the globe, each knife is a remarkable international affair. The components are precision machined to tolerances reserved for aerospace level work – often measured at 0.0005-inch, or one-twelfth the size of a human hair. But the final fit, finish, action, and sharpness are achieved by hand, employing the time-honored craftsmanship developed by generations of master cutlers. There are 22 craftspeople at the Oregon studio, collectively realizing the company's motto: "Superlative function deserves to be elevated to superlative art."
In recent years, Conable expanded the definition of William Henry to include a wider array of luxury accessories for men, including money clips, cuff links, key chains, and writing instruments. In 2014, the brand launched its first collection of men's jewelry, which was received enthusiastically. William Henry's collection of pens has already won prestigious awards and gained a new legion of devotees for their beauty, design, and original materials. The pen shop, adjacent to the knife-making area, has a buzz all its own. There, each pen is turned, assembled, and polished as a whole to a glass-like finish, rendering every piece unique. And here, too, it seems that human touch accounts for more than the most technologically advanced machinery: after multiple polishings, each of the rollerball and limited-edition fountain pens is carefully examined by hand for any imperfections. The names of the pen collections are an homage to the Willamette Valley wine country where William Henry is located: Cabernet, Chablit. The fountain pens feature 18k gold German-made nibs.
A William Henry pocketknife takes more than 12 months to produce, the work of more than 30 artisans and 800 individual operations. There are currently about 10 distinctive knife collections available, each with a personality all its own. In addition, the company produces exclusive editions as well as one-of-a-kind pieces. "Heirloom quality," a tenet on which the company was founded, doesn't come easily.
Article courtesy of Nancy Olson, appeared in J. R. DUNN Magazine, Autumn / Holiday 2015, Issue 5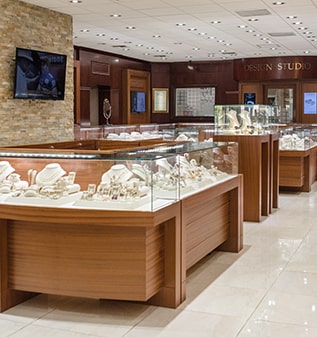 Visit us in real life.
4210 N. Federal Hwy.
Lighthouse Point, FL
33064
Visit us
Store location
Mon-Sat: —
Sunday:

Closed
4210 N. Federal Hwy.
Lighthouse Point, FL
33064
Save up to 15% on your first order.
Receive email updates on stuff you'll probably want to know about, including products, launches, and events. Unsubscribe anytime. Some exclusions apply…