Gold & Diamond Jewelry for Today's Woman by Zoe Chicco
By

Nina Glaser
·
January 6, 2016
Zoe Chicco jewelry is all the things today's women are: elegant, feminine, stylish and sexy. That's why J.R. Dunn Jewelers is proud to be an authorized retailer for the brand, carrying the smart, straightforward line of geometric rings, bracelets, necklaces and fashion-forward earrings.
Wrap your fingers in dazzling yet delicate gold-and-diamond rings. Select from a cuff, ID, hand chain, infinity or cross bracelet. Drape your nape with a contemporary Y necklace with diamonds, edgy lariat or other necklace with bars and curves, points, initials, symbols or spikes. Earrings styles include cuffs, shields, stud charms and studs. All are available from J.R. Dunn and are totally on-trend. Here's the thing, though: they will work as well tomorrow as they do today; this is what happens with style standouts! Mix them and match them for an entirely individual look.
The company's namesake, jewelry designer Zoe Chicco, is a trained goldsmith who finds inspiration everywhere, from art to fashion, nature, travel, and her surroundings and friends.
"It is always my goal to make jewels that feel current but transcend trend," she said. "I try to make jewelry that goes with everything in your closet – the go-to pieces you want to wear every day."
The designer and a small dedicated staff of artisans work out of her Los Angeles studio, lovingly hand-making each piece in pursuit of this philosophy. The earrings, necklaces, bracelets and rings they produce are personal, classic and versatile, displaying a meticulous eye for detail. They are at-once significant and delicate, suited for solo or layered wear. Jewelry components include 14kt gold, oxidized sterling silver and diamonds.
Zoe Chicco jewelry is a way for women to express their personality. The right pieces can evoke a feeling…and completely change one's mood. An uplifted frame of mind is a gift the designer bestows on her clients.
As the designer said, "I want to give my clients…a bejeweled happy place."
Find your happy place at the space that just became a little happier with Zoe Chicco jewelry: J.R. Dunn Jewelers!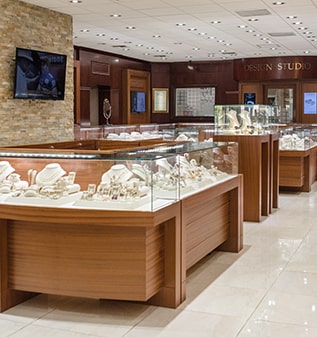 Visit us in real life.
4210 N. Federal Hwy.
Lighthouse Point, FL
33064
Visit us
Store location
Mon-Sat: —
Sunday:

Closed
4210 N. Federal Hwy.
Lighthouse Point, FL
33064
Save up to 15% on your first order.
Receive email updates on stuff you'll probably want to know about, including products, launches, and events. Unsubscribe anytime. Some exclusions apply…