Ear Climber Earrings
There's an earring category that's scaling to new heights of style, taking its place in jewelry history as a very popular trend with staying power: ear climbers (also known as vine earrings, ear sweepers or ear crawlers). The single-piercing style that can give the illusion of multiple piercings presents a striking silhouette. Ear climbers have a curved design which starts at the lobe and climb up the ear in varying lengths, all the way up to those that stretch the entire length of ear. They're edgy and sophisticated. Ear climbers have gone from the catwalks to the modern woman's wardrobe. Red carpet events to everyday events, they are appropriate for home and office. Ear climbers are chic, modern and versatile. Wear them with an up 'do, or if you're rocking short hair, and feel your confidence soar!
Ear Climbers
Ear climber earrings have quickly grown into a favorite for everyone from casual earring wearers and to the avid fashionista. The designs are entrancing and work just as well with a t-shirt and jeans as they do that little black dress. There are a variety of styles and sizes to choose from, and you can easily find a pair for every occasion. Our selection of ear climber earrings is filled with options. Whether you prefer gold, white or rose gold, diamonds or two-tone, you will find the style that speaks to you and enhances your look.

Small ear climbers are subtle yet flattering with any outfit. The two-tone swirling small ear climbers enhance both casual and sophisticated wardrobe items. Some designs have sharp and distinct shaping and are crafted to be distinct and fierce. Ear climber earrings that are small in size are a favorite for many women because of the quality, craftsmanship and absolute beauty of them. You have options that are designed with 14kt gold, as well as earrings that are going to sparkle with brilliantly clear diamonds and precious stones.

Large ear climbers are ideal to add to any earring collection. They are fun to wear and give your look an edge that just can't be achieved with traditional studs. Our larger ear climbers are absolutely stunning. When it comes to all ear climber earrings, you can enhance the look even more with ear cuffs.

Ear cuffs can be worn by themselves, with studs, dangly earrings or with ear climbers. They come in a variety of styles and looks, completing your look with elegance, fun and a little sparkle. Consider pairing a stunning yellow gold ear cuff with a diamond-embellished yellow gold ear climber to make a statement while completing your fashionable look.

Vine ear climbers can be as sophisticated or edgy as you want. There is a design for every personality. The vine ear climbers swirl and curve in enticing patterns that take fashion to the next level. While these fierce patterns come covered in brilliant diamonds, the vine ear climbers can be worn with everything from sundresses to wedding dresses. They are ideal to wear for every season.

Add one pair to your collection or treat yourself to a few different pairs so you have all of the designs to wear when you desire to enhance your look with jewelry. If you are looking for the perfect gift for someone you love, trust that you will see their eyes light up when they open the box and see a pair of gorgeous ear climber earrings. You can't go wrong with any of the designs like small or large cuffs or vine!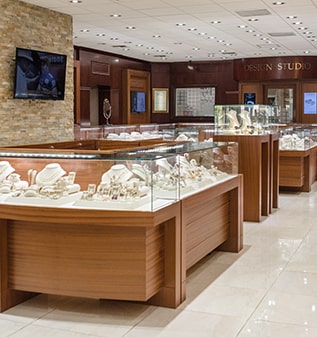 Visit us in real life.
4210 N. Federal Hwy.
Lighthouse Point, FL
33064
Visit us
Store location
Mon-Sat: —
Sunday:

Closed
4210 N. Federal Hwy.
Lighthouse Point, FL
33064
Save up to 15% on your first order.
Receive email updates on stuff you'll probably want to know about, including products, launches, and events. Unsubscribe anytime. Some exclusions apply…