Aaron Basha Baby Girl Shoes
Little girls are made from the best ingredients: sugar and spice. What they really like is diamonds and gold! An Aaron Basha baby shoe is a great way to commemorate the birth of a new bundle of joy. It's very stylish and pretty, like little girls! Each shoe is crafted in 18kt white or yellow gold and looks like a saddle shoe. Enamels in bright colors are added to change the style of the shoe. Since diamonds are a girl's best friends, Aaron Basha baby shoes are loaded with them. They make each one sparkle brightly. Different shapes are found on these shoes, like hearts and ducks. There are even dots, checks, and flower patterns. Smaller charms may dangle from the shoelace or strap to make them even more whimsical. The best part is that the baby's name and birth date can be engraved on the sole of the shoe. What new mother or grandmother would not love an Aaron Basha charm for their charm bracelet or necklace?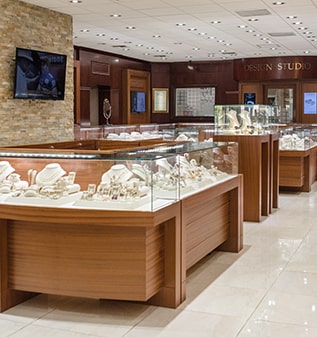 Visit us in real life.
4210 N. Federal Hwy.
Lighthouse Point, FL
33064
Visit us
Store location
Mon-Sat: —
Sunday:

Closed
4210 N. Federal Hwy.
Lighthouse Point, FL
33064
Save up to 15% on your first order.
Receive email updates on stuff you'll probably want to know about, including products, launches, and events. Unsubscribe anytime. Some exclusions apply…