The necklace you give your beloved will always reflect how dear she is to you. A Forevermark diamond necklace does just that. The Forevermark Diamond Institute is part of the De Beers Diamond Group, which has been in the business for 125 years. Their promise is that each diamond is picked for it beauty and rarity. These gemstones are the best of the best. Forevermark only selects diamonds from a few companies to ensure that they are responsibly sourced. This is another part of their promise. Less than 1 percent of all diamonds qualify for such a distinction, and these are the gems in Forevermark necklaces. Because of this promise to the consumer, each Forevermark diamond is engraved with the Forevermark icon and a unique number. The diamond is registered to you. Since the person you want to buy a necklace for is exceptional to you, you need to find a matchless piece of jewelry for her. Nothing else compares to a Forevermark diamond necklace.
Forevermark Diamond Necklaces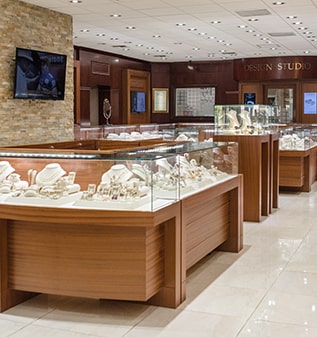 Visit us in real life.
4210 N. Federal Hwy.
Lighthouse Point, FL
33064
Visit us
Store location
Mon-Sat: —
Sunday:

Closed
4210 N. Federal Hwy.
Lighthouse Point, FL
33064
Save up to 15% on your first order.
Receive email updates on stuff you'll probably want to know about, including products, launches, and events. Unsubscribe anytime. Some exclusions apply…