IPPOLITA Jewelry
Womens jewelry inspired by Italian art
Ippolita jewelry is known for embracing color, comfort and originality. Each Ippolita jewelry collection features necklaces, bracelets, earrings and rings crafted in 18K gold and sterling silver. Known for bold statement pieces that display a range of colored gemstones and diamonds. Ippolita is inspired by Italian art, sculpture and movement that is designed for modern women of all ages.
About The Designer
"As an artist I have always wanted to translate my love of sculpture into a form of wearable art." ~Ippolita Rostagno
Owner and jewelry designer Ippolita Rostagno's fascination and love for sculpture and dance came from living in Italy and studying at Istituto d'arte in Florence. When she moved to New York in the United States, she brought her Italian background and love of dance and began to translate it to the art of jewelry design. Although the Ippolita brand is highly influenced by Italian jewelry, the jewelry brand uses the finest artisans world-wide to craft their jewelry.
Silver and Gold Jewelry
Ippolita's Jewelry can only be sized and repaired by being sent back to the designer. Why? Because it took years of trial and error to come up with the perfect mixture of 18k yellow gold to match Rostagno's desire. A proprietary mixture that glistens in its unique brightness.

The fine jewelry of Ippolita features it's iconic classico collection which most fans and collectors are familiar with. Ippolita produces other collections such as the wildly colorful Lollipop which draws inspiration from Carnevale and the soft and multicolored gemstone studded Rock Candy collection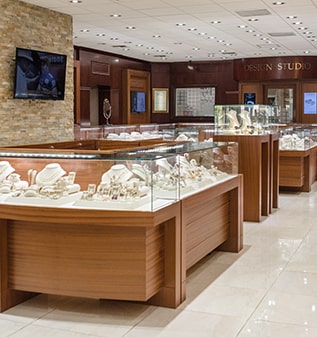 Visit us in real life.
4210 N. Federal Hwy.
Lighthouse Point, FL
33064
Visit us
Store location
Mon-Sat: —
Sunday:

Closed
4210 N. Federal Hwy.
Lighthouse Point, FL
33064
Save up to 15% on your first order.
Receive email updates on stuff you'll probably want to know about, including products, launches, and events. Unsubscribe anytime. Some exclusions apply…