How To Find The Perfect Gift For Her...In Minutes
Men in-the-know have been giving women jewelry for ages, yet some men are still giving women chocolates, gift cards and blenders. While there's nothing wrong with that, they're missing one of the most rewarding moments in life...giving her a gift she LOVES. Buying her jewelry is the big leagues of gift giving and we can help you hit a home run.
Where It All Goes Wrong
Men and women look at gifts in very different ways and once you understand the differences, you're well on your way to finding a gift she'll love. Margaret Rucker, a psychologist at the University of California, Davis, explains that men are typically more price-conscious and practical when it comes to the gifts they give, while women tend to want gifts with emotional significance. That's a big difference.
You Don't Understand Me!
Have you given her a gift and she was underwhelmed or worse? If you think about it, was it a practical gift? Something you thought she needed? It's time for you to be her hero and give her a gift she loves.
We're going to show you how to get an emotionally significant gift. It's easy. It's fast. Then we'll show you a practical and price-conscious way to get that gift for her.
Find Out What She Has
1. Look in her jewelry box.
Look at her jewelry box. The things that are her favorites will be in the front or on top. Look at the colors. Do you notice more silver or gold? What about gemstones? What color are they? Does she favor earrings, necklaces or rings? Is the jewelry big and chunky or mostly tiny and delicate? Use your smartphone and take a photo of the jewelry box.
pro tip:
You're not looking at a box of jewelry, it's a box of memories. Give her something she'll remember.
2. Look at the framed pictures she has around the house.
What jewelry is she wearing in those photos? Look for the same clues as before: Silver or gold; gemstones; type of jewelry, etc.
pro tip:
What jewelry is she wearing in the photos of the two of you? She probably wore that to impress you. It's your turn to impress her.
3. Check her Facebook page.
Look for photos of her dressed up. She will most likely be wearing her nicest jewelry. Then use the same process as before. Do your detective work.
Find Out What She Wants
1. Check out her Pinterest page.
You've seen what she has so let's try to find what she wants. It's common to have a board called "Things I Want" or something similar. If not, look at her other boards for jewelry that she wants. This is a good place to find brand names and prices, too.
2. Look at her Instagram photos
You know the drill, same stuff as before but one more thing... Look at who she's following and you might find the brands that she likes.
That's it. The hard work is done. You've just invested your time in finding out what she likes and you now have a pretty good idea of what to get her. That's what she wanted you to do. She wanted you to think about her when deciding what to get her.
With the emotional significance requirement fulfilled, you're ready to start shopping. Maybe you know exactly what to get her now? Good job! Maybe some of you are still a little unsure. That's why we're here. We think the practical, price-conscious and smart thing to do is to give us a chance and shop with us.
How To Be Practical and Price-conscious
Time Is Money
You can wrap this up in less than 10 minutes if you let us help you. Call or hit the Chat button and we can help you select the perfect gift. You can look at the website while speaking with us and we'll guide you along. We can text, email, Skype...whatever makes it easier for you. Keep in mind, you can reach us during business hours. We're a real jewelry store, not a warehouse.
pro tip:
We have guys that will text us and say they need a gift. We text them photos of different options. Two minutes later, their gift has been selected and they can get back to watching the game or whatever they were doing. These are the guys that are never "In the doghouse". Shopping doesn't get any easier.
Benefit From Our Experience
This is what we do, we help men get gifts that women love and we're very good at it. In an effort to build a lasting relationship with our clients and let you shop with confidence, we offer the following:
Best Price Promise
Hassle Free Returns
Complimentary Shipping
We're legit and so is our jewelry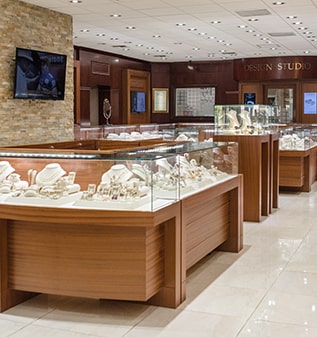 Visit us in real life.
4210 N. Federal Hwy.
Lighthouse Point, FL
33064
Visit us
Store location
Mon-Sat: —
Sunday:

Closed
4210 N. Federal Hwy.
Lighthouse Point, FL
33064
Save up to 15% on your first order.
Receive email updates on stuff you'll probably want to know about, including products, launches, and events. Unsubscribe anytime. Some exclusions apply…