6 Things You Probably Don't Know About the New Rolex Submariner
By

Jenna Fish
·
September 8, 2020
New 2020 Rolex Submariner vs. Old
On September 1st, 2020, Rolex released an all new version of one of its most iconic and sought-after pieces – the Submariner. By now I'm sure you've heard the two major differences everyone's talking about—the larger size change from 40mm to 41mm as well as the new movement. But there are a few things you probably haven't heard yet. Here are six things you may not know about the new Submariner and Submariner Date, and how they are truly not that different than the previous models. Submariner Ref 124060 vs. 114060 Submariner Date Ref 126610 vs. 116610
1. Not much larger case size.
One of the most notable and talked about changes in the new Submariner models is the increased size from 40mm to 41mm. But the new model actually only measures .52mm larger. The size increase is so minimal you will hardly be able to tell the difference when wearing it on your wrist. Previously, the diameter of the case measured at 40.86mm wide while the new model boasts a slightly larger size measuring in at 41.38mm. Furthermore, the aperture of the dial opening itself is just slightly larger, measured at .3mm of difference.
2. Tapered lugs.
With the very slight increase in the size of the case, Rolex further revised the design by tapering the lugs for a more streamlined appearance and comfortable feel on the wrist. You'll barely be able to tell the difference between the new Submariner and the older model unless you compare them side by side.
3. Anti-reflective coating.
The new Submariner and Submariner Date models feature an anti-reflective coating on the crystal preventing glare. This is the first time that a Submariner model has this on the crystal.
4. Crown symbol indicating the new movement.
By now you probably know one of the main differences in the new Submariner models compared to the old are the new Calibre 3230 and 3235 movements with 70-hour power reserve, developed and manufactured by Rolex. But what you may not know is the visual notation of its new movement. If you look closely, you'll notice a crown on the very inside of the bezel at the 6'oclock hour mark situated in between the words "Swiss" and "Made". On the previous model Submariner and Submariner Date, there is simply the verbiage, "Swiss Made" alone without the crown.
5. Curved numbers on the bezel.
Rolex also revised the numbers on the bezel of the Submariner by slightly tilting the numbers with precision, creating an illusion of it curving with the bezel itself. If you look closely at the 50 in the upper left, you'll notice the top of the 5 and the 0 are slightly further apart than at their bottom.
6. Concealed bracelet attachment.
In the previous Submariner and Submariner Date models, you'll actually see a visible line where the bracelet attaches with the lugs. On the new 124060 and 126610 models, Rolex designed them in a way to actually conceal the attachment, tucking it under where it's not visible for a sleeker look.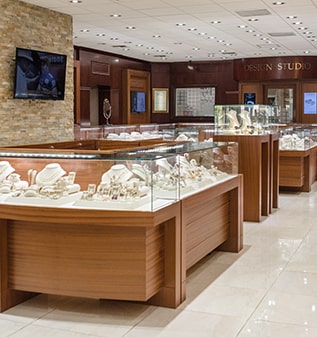 Visit us in real life.
4210 N. Federal Hwy.
Lighthouse Point, FL
33064
Visit us
Store location
Mon-Sat: —
Sunday:

Closed
4210 N. Federal Hwy.
Lighthouse Point, FL
33064