G-Shock Watches
Waterproof, shock resistant watches for men and women
G-Shock watches by Casio are tough enough for military personnel and reliable enough for FAA approval. Featuring watches for men and women, G-Shock watches are also available in digital and analog. These Casio watches are shock- resistant, waterproof and showcase a wide-range of intricate functions such as Bluetooth, compasses, barometers, depth meters, pedometers and even GPS location. These attributes make the brand a signature for law enforcement, first-responders and those serving in the armed forces. Alpha-gel encased mechanics allow this watch to withstand tremendous impact and its stainproof, resin band keeps the watch flexible for comfort. Taking three years to perfect the innerworkings of these watches, G-shock has reached its pinnacle of design, realizing their watches can successfully survive a drop from the stratosphere. Using an innovative approach, G-Shock has come up with a timepiece for every type of active lifestyle.
Why buy your next G-Shock at J.R. Dunn Jewelers?
J.R. Dunn Jewelers is an official retailer for all the watch brands we sell. We've been fortunate to be selected by Casio G-Shock and over 30 other major designer jewelry and watch brands to represent their products, both in store and online. This means you are guaranteed to receive genuine G-Shock watches and accessories when ordering online. Products will always be in their original packaging, new and unused, along with the factory warranty and after-sales support. The products you purchase come directly from G-Shock headquarters and into our inventory. Shop confidently with free shipping, free returns and convenient financing options.
6 simple steps

to set the correct time on your G-Shock watch
Press the MODE button (bottom left) as many times as needed until the day of the week and time are displayed. This is called Timekeeping Mode.

Once you are in Timekeeping Mode, press and hold the ADJUST button (top left) for two seconds, until you hear the first beep.

Use the FORWARD (top right) and REVERSE (bottom right) buttons to scroll through the different cities until you reach your time zone. (Example: EST would be NYC)

Once you have stopped on your time zone, press the MODE button (bottom left) to set daylight savings time (DST).

Use the FORWARD (top right) and REVERSE (bottom right) buttons to switch between OFF and ON.

After choosing the appropriate Daylight Savings Time setting, press adjust once more time and your watch hands will begin to rotate on their own, This means you've successfully set your G-Shock watch.
The story of G-Shock
At a brainstorming meeting in the early 1980's, the team at Casio was presented a proposal to create a watch that wouldn't break even if it fell onto a hard surface. The simple idea seemed far-fetched at the time, however, a three-man team led by Kikuo Ibe embarked on the seemingly impossible challenge. Prior to spearheading his ambitious endeavor, Ibe was the engineer-in-charge of external design for Casio watches. The team's early attempts at creating an unbreakable watch were futile. They first tried encasing the watch with a soft, rubber material to cushion the falls, but because of the amount of soft material necessary to prevent breakage, the watch became gigantic.
The team was relentless in their quest and eventually resolved the size issue of the watch by figuring a way to isolate and cushion the internal workings of the watch. But once they figured out one aspect, another component would break due the stress of falling from the 10m-high drop test. It was a frustrating process of trial and error that even had Kikuo Ibe considering resigning from his position if he couldn't devise a solution. He ultimately persevered and found the answer by fate when he walked outside of the testing facility and saw a child playing with rubber ball. It suddenly came to him-- if he could suspend the internal mechanisms of the watch inside the hollow ball, it would experience far less impact than the exterior of the ball.
The solution for the shock resistant watch was born. Air needed to surround the heart of the watch inside the rubber case with minimal touch points. These few touch points had to be cushioned by shock absorbent gel materials. Soon after this revelation, Ibe's work continued and the first G- Shock DW-5000C was officially launched by Casio in 1983.
G-Shock, from this point forward, forged its position as the ultimate tough watch. Guided by a "Triple-10" development concept, the original design teams sought a watch with 10-meter free-fall endurance, 10-bar water resistance and a 10-year battery life.
Because of this toughness, water resistance and unique look, G-Shock watches gained immense popularity in the 1990's with extreme sport athletes, first responders, military personnel and various outdoorsmen. It was around this same period that Casio launched the Baby G collection for women in a smaller size. By 1998, Casio announced that it had sold 19 million G-Shock watches worldwide and today that number has grown to over 100 million watches sold.
The brand has developed a cult following and many of their limited edition and vintage G-Shock watches are selling above retail. The release of the digital G Shock Full Metal 5000, in early 2018, was a huge hit with both the stainless steel and gold models selling out within days.
G-Shock by Casio continues to innovate with its recent models, like the Rangeman. This watch should be part of any adventurer's survival kit. Its dual wireless and solar charging systems support being off the grid. Its GPS navigation provides you with necessary data in real-time while en route to your destination. The Casio G-Shock Rangeman also features a digital compass, barometer, altimeter, thermometer and plenty of other state-of-the-art technology.
Keep your eyes peeled even more new releases online at JRDunn.com for G Shock in 2020.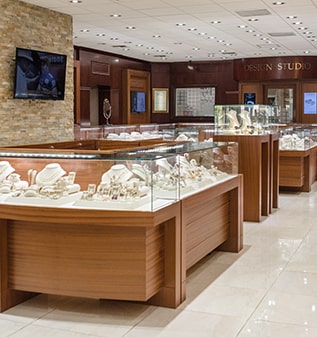 Visit us in real life.
4210 N. Federal Hwy.
Lighthouse Point, FL
33064
Visit us
Store location
Mon-Sat: —
Sunday:

Closed
4210 N. Federal Hwy.
Lighthouse Point, FL
33064
Save up to 15% on your first order.
Receive email updates on stuff you'll probably want to know about, including products, launches, and events. Unsubscribe anytime. Some exclusions apply…